National Development Programme for Coaching Excellence
Friday 26 October 2018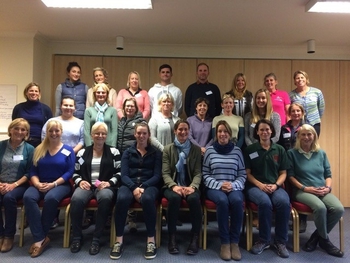 The National Development Programme for Coaching Excellence (NDPCE), which started exactly three years ago, recently held two workshops which for the first time saw six equestrian disciplines come together with a total of twenty-five Coaches in attendance.
The first day of the two-day workshop at Stonebridge Golf Club, Meriden saw the Coaches introduced to the team behind the programme and given an insight into why the NDPCE was initially conceived. Developed in collaboration with the British Equestrian Federation and led by British Showjumping, the programme set out to recognise the importance of high performing coaches working with grass roots riders who participate in equestrian sport or competitive recreation.
Following the introduction and overview the Coaches took part in their first session to establish what excellence in coaching means, delivered by Coaching & Coach Development Consultant Nicky Fuller. The afternoon saw Colin Wilson, a double Commonwealth medalist and CEO of Business Athlete Ltd, deliver a session to support the coaches in building and planning a personal development plan.
Day two was facilitated by Sports Coaching Consultant Jane Booth and involved the Coaches reflecting on their past in order to shape their future and the importance of connections for development and goal achievement.
By the end of the two days the coaches, whilst being mentally tired, were full of motivation and inspirational ideas to take back with them. Their next two day session takes place in December at The Unicorn Centre, Stow in the World.