Oliver Tuff makes history to take the Equitop Myoplast Senior Foxhunter Championship Title
Thursday 04 October 2018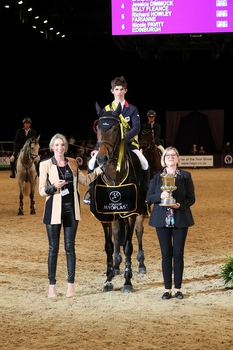 Oliver Tuff made history at Horse of the Year Show as he brought the second day of competition to a thrilling close. At just 15 years of age, he became the youngest ever winner of the Equitop Myoplast Senior Foxhunter Championship, a class that was launched in 1954 and features previous winners such as David Broome, Harvey Smith, Nick Skelton and John Whitaker.
It was a fearless display by the Devon-based teenager on Darino B, a 10-year-old bay gelding that romped home in the jump-off, clocking a time of 37.91 seconds. There were plenty of experienced campaigners left in his wake amongst 22 starters, with second place going to Lucy Townley riding Billy Tennessee and Louise Saywell taking third aboard Cardino Z.
But the night belonged to Oliver on a horse owned by his father Justin as he thrilled his audience with a performance that belied his tender years under the spotlight of the Andrews Bowen International Arena.
"It is phenomenal, I can't believe it," he said. "The horse was fantastic. I knew he would be quick everywhere in the jump-off, and when he qualified for Horse of the Year Show everyone gasped at his performance. I was fairly confident because I knew the horse was quick, careful and brave, and that he might just do it. It's amazing.
"I first rode here in 2015 and I competed here last year in a pony class and I had the last fence down in the jump-off, so I started riding horses and it has really paid off. All I want is to get to the very top, it's all you can wish for. I have some good owners, and hopefully I can get a few more."
Link to audio interview with Oliver Tuff.
Equitop Myoplast:
Equitop Myoplast® is a unique amino acid supplement specifically designed to support lean muscle growth, helping horses to respond and cope with the demands of training and rehabilitation. The blend of amino acids in Equitop Myoplast supports lean muscle growth in older horses that lose condition easily, those in intensive training or competition as well as young and developing horses. This popular amino acid supplement is the leading equine supplement sold by veterinary surgeons in the UK(1).
Photo Credit: 1st Class Images