British Masters International 2019 won by Anthony Condon
Monday 01 July 2019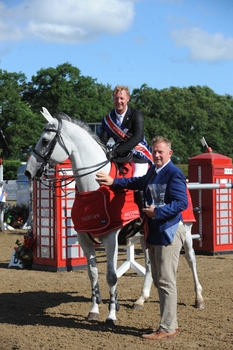 Image: Anthony Condon and Zira VH Kapelhof Z with Charles Britton
British-based Irishman Anthony Condon headed a thrilling, edge-of-your-seats jump-off to take the world ranking 1.45m Grand Prix with the Hales family's Zira VH Kapelhof Z at the ninth annual British Masters in Wettenhall, Cheshire.
Course-designer Raf Suarez tested he thirty-eight riders with strong, square oxers and distance questions but such was the quality fifteen of them found all the right answers to access the jump-off with the British contingent pitted against three British-based Irish riders and one American.
Ireland dominated from the start with Richard Howley posting a competitive clear on Seahorse Z. Anthony had other ideas and set off at a flying pace – and maintained it.
"I was tight back to the double but she saw it early and clocked on and we were even tighter to the next vertical," said Anthony, who also took out two strides to the last oxer. "She's feisty but so careful and fast."
Anthony has produced this mare carefully through the grades since a five-year-old for the Haleses with success from the off with 5 and 6-year-old titles at the British Young Horse Championships and qualified for the HOYS Foxhunter final as a 7-year-old.
"She's been placed in four star grands prix recently and is ready for the big stuff now," he added.
The USA's Julie Welles slotted Constable II into second with Richard taking third, fellow Irishman David Simpson finished fourth on Gentleman VH Veldhof and Max Routledge was the best of the Brits in fifth on Sarah Williams' home-bred Balou Du Rouet nine-year-old Balulu.
In other classes, the Brits took the lion's share of the wins.
Annabel Shields triumphed in day one's 1.45m with 0.54 seconds in hand in a nine-strong jump-off with the Camira De Haar Z nine-year-old Creevagh Carisma, holding off the strong challenge from Louise Simpson and Fiona V/H Lemmenshof.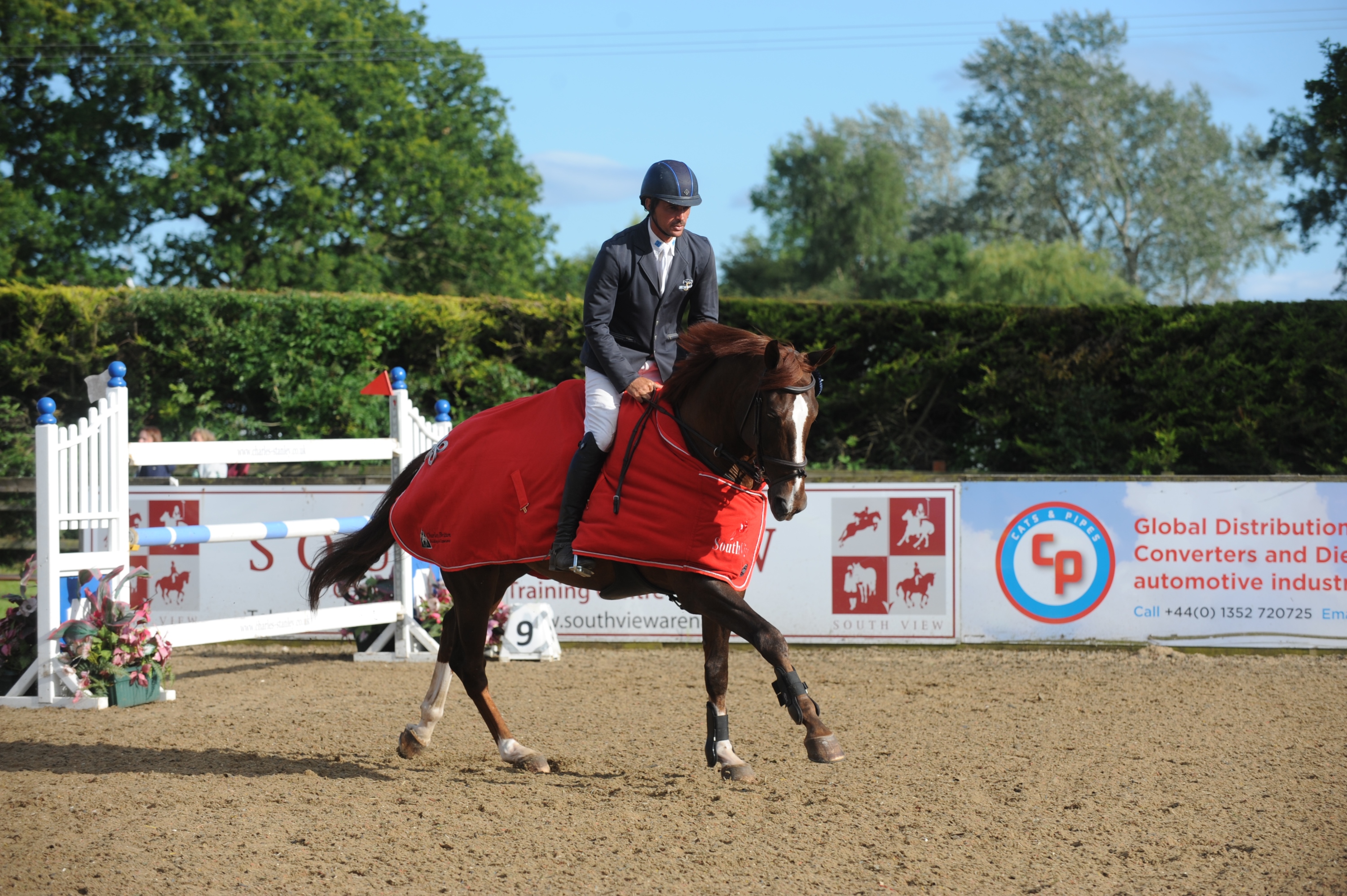 Image: Paul Barker and Happy Boy
Paul Barker landed a hat-trick of victories, taking day one's medium 1.40m, day two's big tour 1.45m in fine style and the concluding 1.40m table C speed (four seconds added for a knock-down).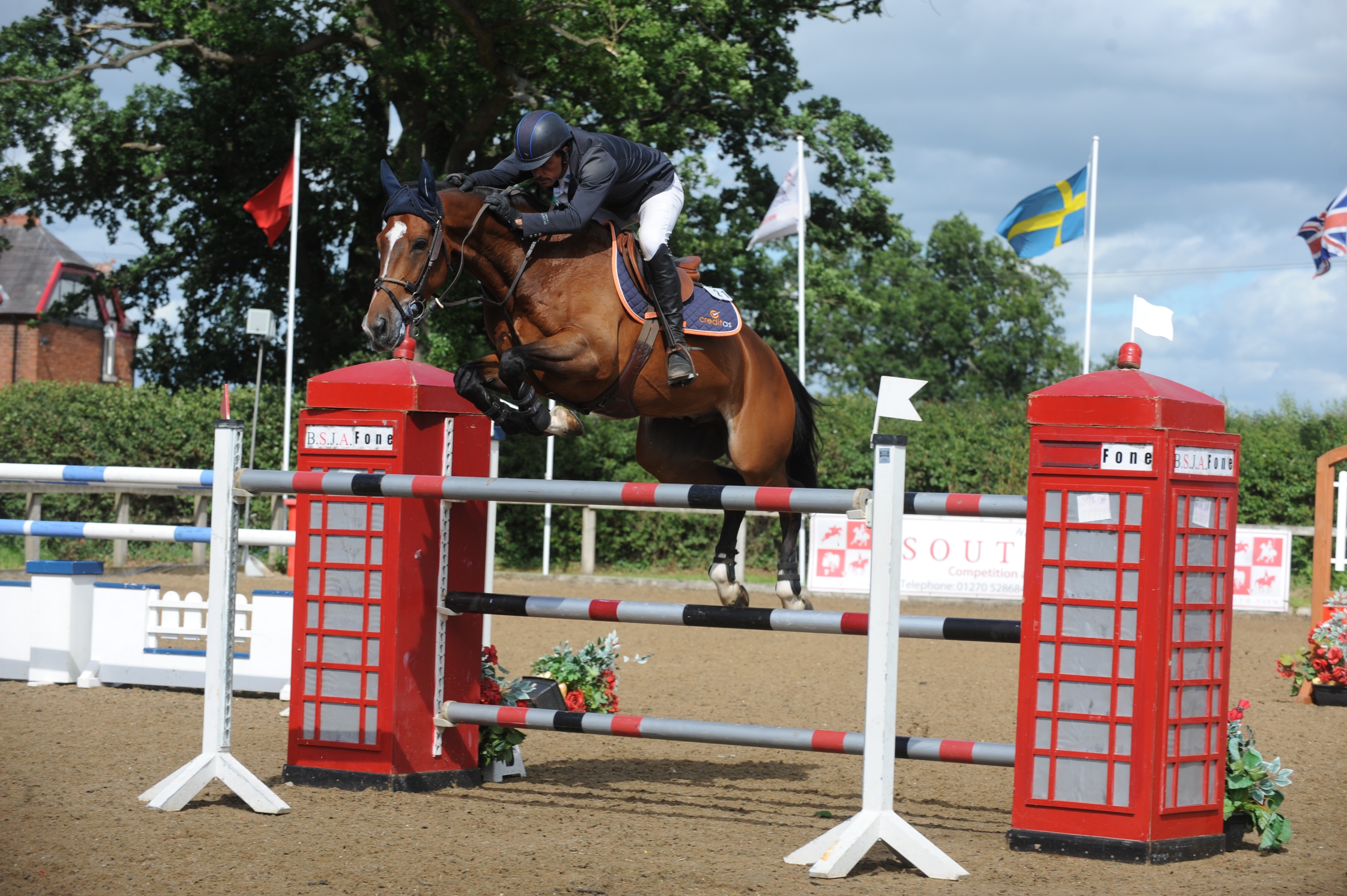 Image: Paul Barker and Dalton W
He left the best until last in the 1.45m two-phase, obliterating long-time leader Louise Saywell's time on Sharp Image with a final round flyer on Dalton W. Twenty-nine contended but Paul was in determined mode from the off and sliced 0.66 seconds off the leading time with the Van Gogh 11-year-old Dalton W.
Paul's reputation as a speed master was underscored in the two 1.40m classes on the ultra-consistent Kannan-sired 12-year-old Happy Boy. Forty-five contended the two-phase but the pair easily held off all rivals, Geoff Billington coming the closest to take second on Corvette Van Overis 2.53 seconds in arrears.
And in the table C speed, the pair were so quick they still won by 1.14 sec despite lowering a pole.
Nathan Bull found the shortest route with a deceptively quick round on Janice to take the 1.40m accumulator. Nathan has only ridden the nine-year-old mare by Kannan for seven weeks but has quickly established a rapport and they won with half a second in hand over Nicole Pavitt's Gemmarco 16 in a 38-entry class.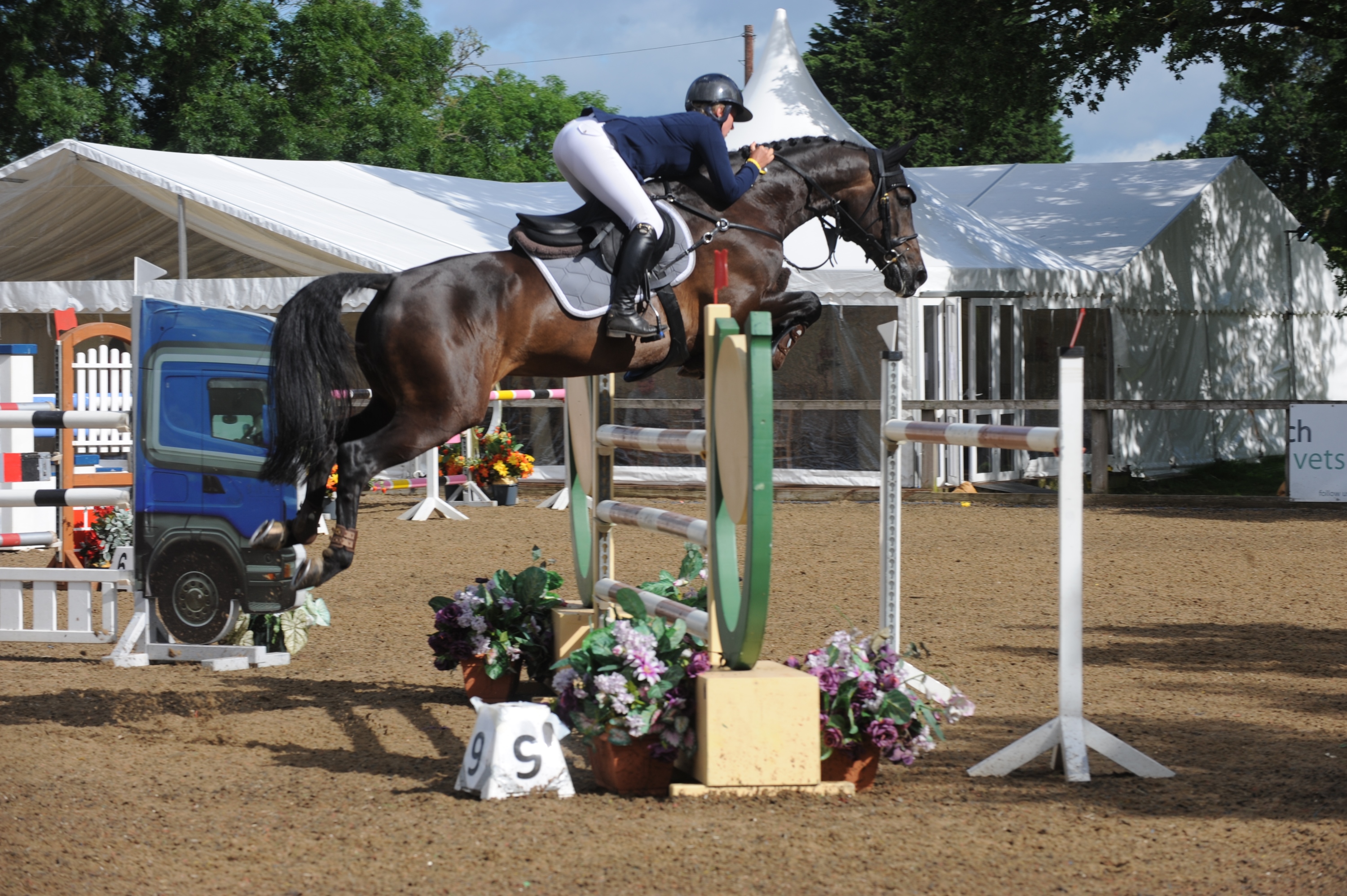 Image: Lousie Saywell and Carolus K
Third on day one, Louise Saywell scored a victory double on the small tour with small grand prix and 1.30m two-phase wins aboard Jane Heerbeck's consistent Carolus K DHI. They relegated Keith Shore on Pat Morris's Checkmate Z on both occasions.
"He's more settled, confident and very competitive," said Louise on the C Indoctro II x Gran Corrado 12-year-old she took on late last year.
Alec Trickett's riding gear came out of retirement after almost two years as he regained the ride on the Calvaro Z 13-year-old One Two Watch II from son Joe – and promptly won the 1.30m jump-off with a flying round at their second show with 0.35 seconds to spare.
"I missed it too much – and Joe got him nice and ready for me to just get on!" he said.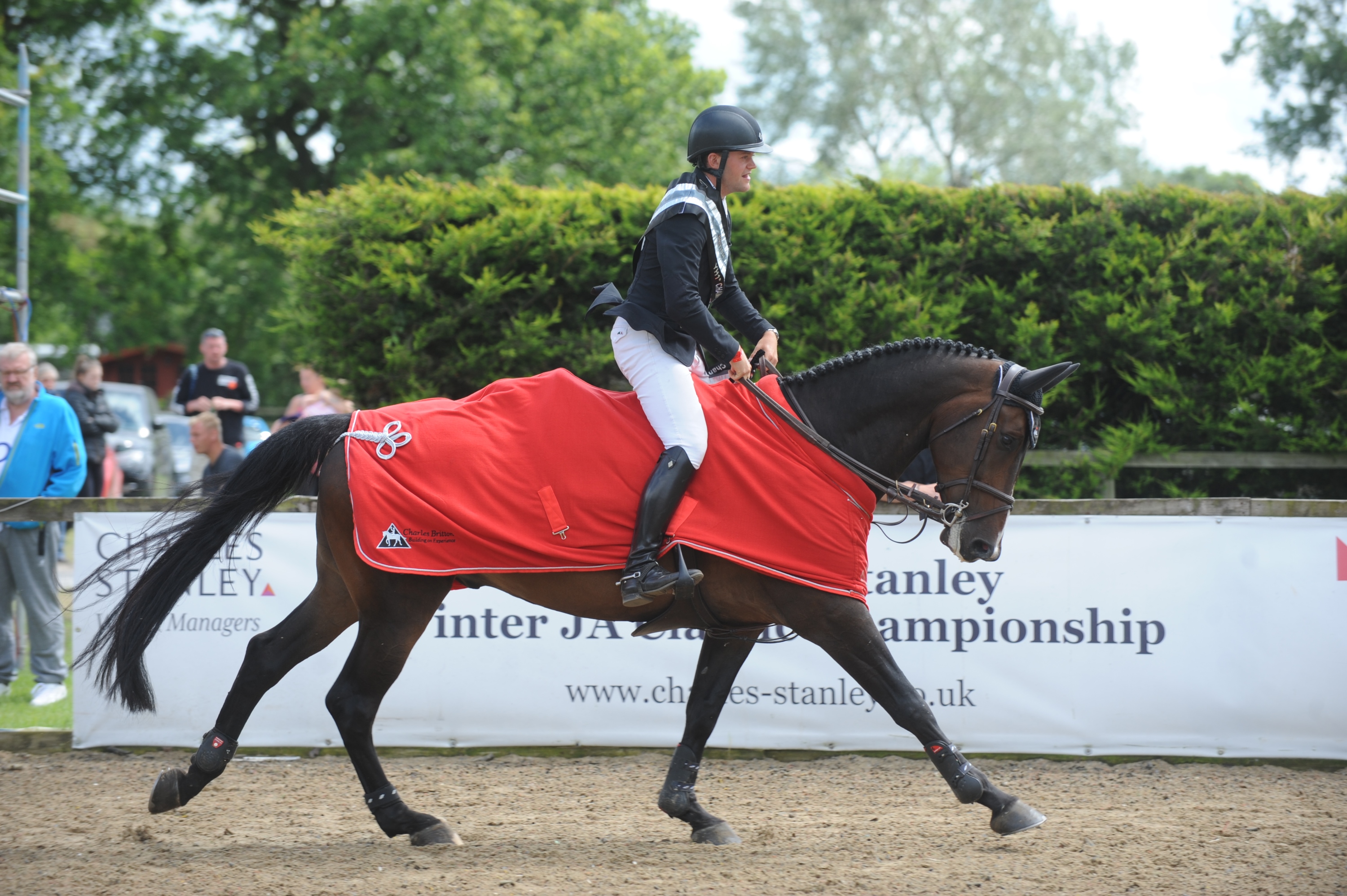 Image: Charlie Jones and Vins VD Tojopehoeve Z
Charlie Jones maxed on Vins VD Tojopehoeve Z's huge stride to secure victory in the eight-strong jump-off of the 6-year-old Championship, trusting the carefulness of the rangy 17.3hh as he opened him up to take a stride out to a midway vertical.
"He's one of the bravest horses I've ever ridden," said Charlie, on the Vagrant Z x Calvados gelding spotted by Nick Skelton in Spain as a five-year-old.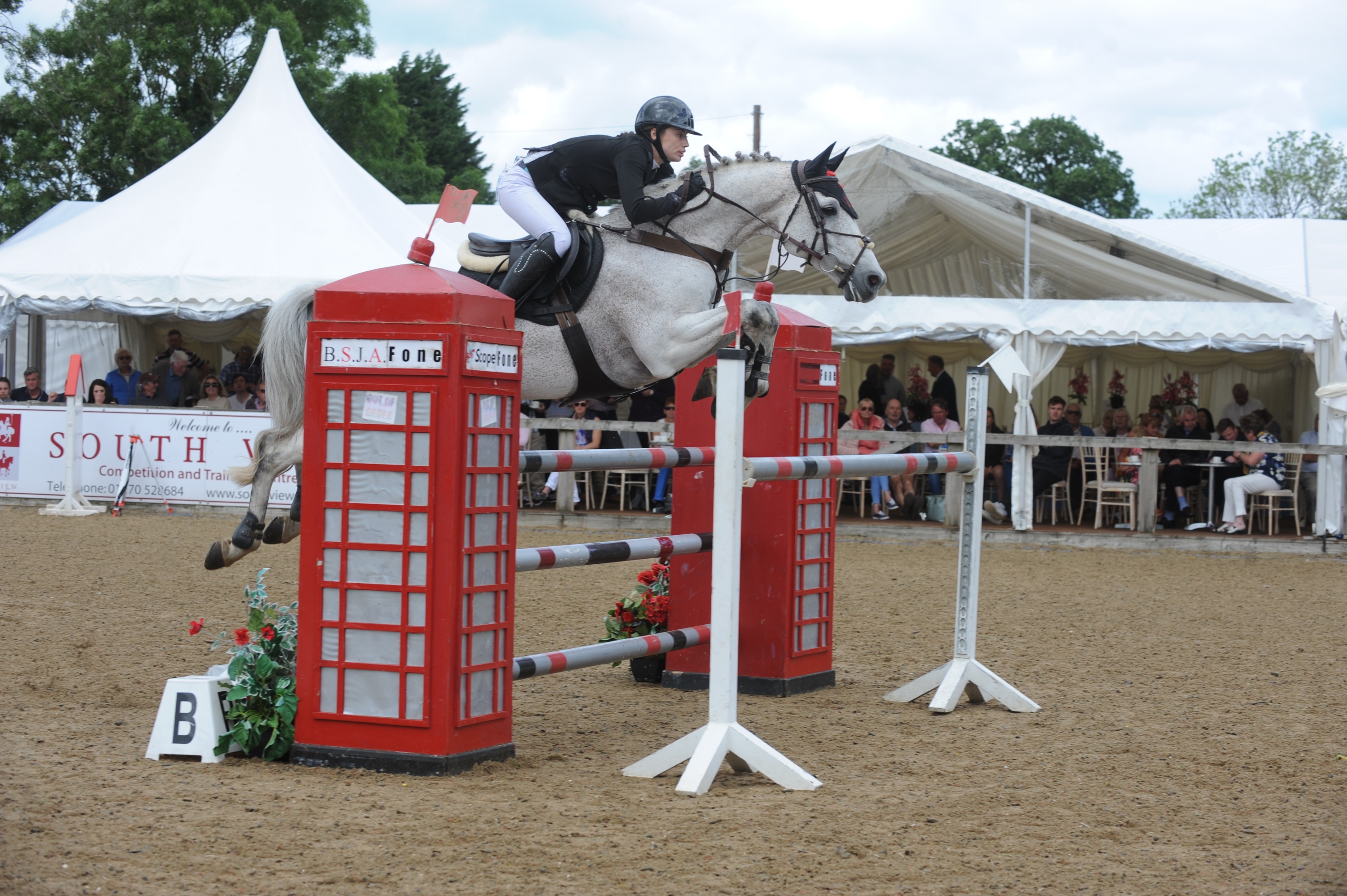 Image: Georgia Cabb and Uragan
Georgia Cabb obliterated all opposition to claim the Amateur 1.20m Final in a 10-horse jump-off with the 15-year-old Uragan, trusting the year-old's carefulness at tremendous pace added to a near-impossible turn to the final water-tray vertical. It marked their second win in three years.
"We were third last year but the course really suited him this time," said Georgia, who hadn't had the best start to the year.
"I broke my ankle jumping a 1.35m on him at Hartpury in December. I had to pull out of Liverpool show two weeks later and we were out for three months. "He came back the same, he's buzzy and sharp in the ring but laid-back at home."
Vicky Lovegrove claimed almost two sec over her nearest rival to win the amateur 1.20m two-phase on the Upgrade 12-year-old Codean. Iwan Carpenter had to settle for second with Merllyn's Chacco B.
Sarah Winterbottom proved unbeatable in day two's amateur 1.20m, claiming a 1.25 second advantage on the Zirocco Blue VDL x Lasino eight-year-old Gordulane.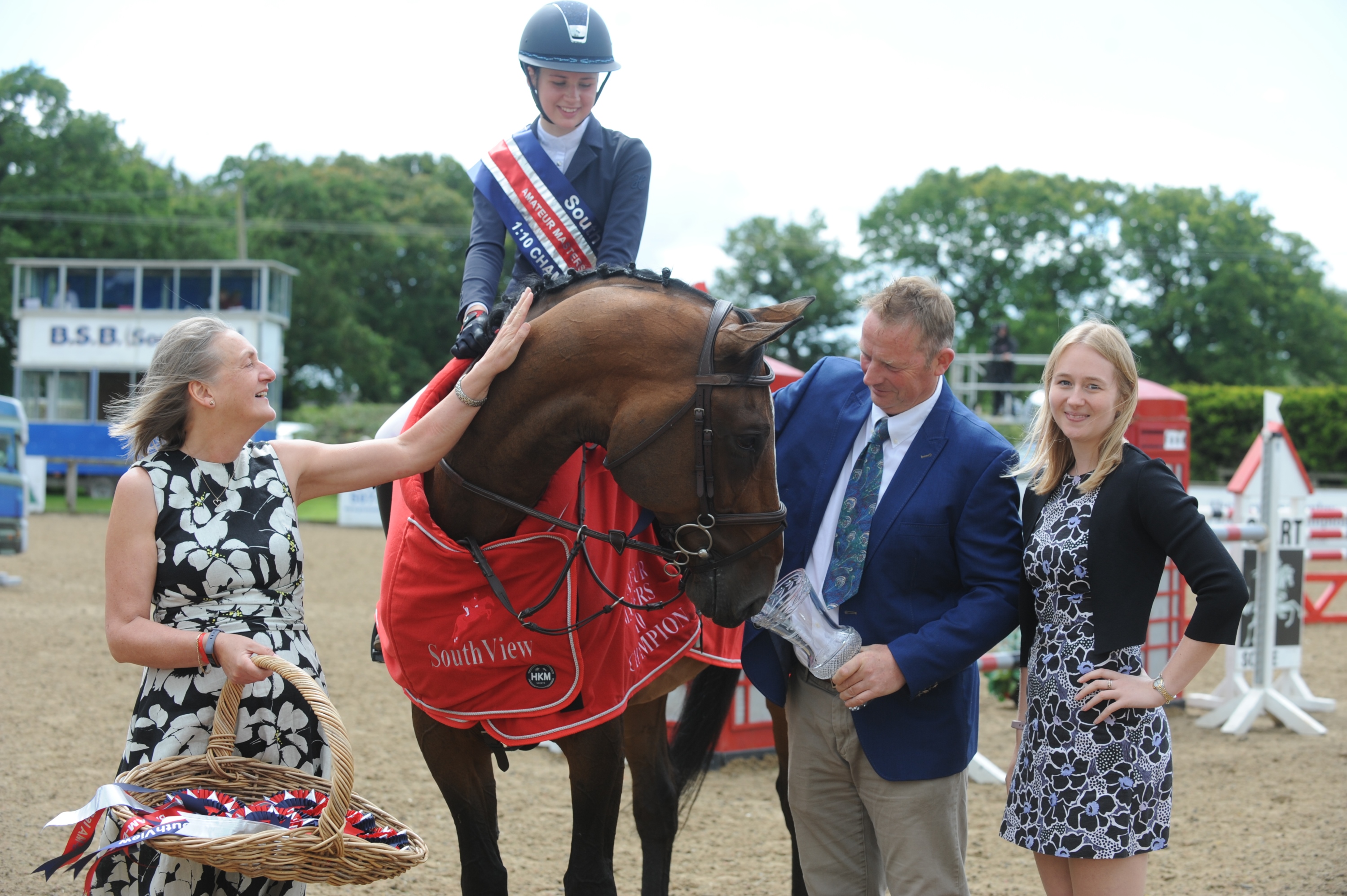 Image: Hannah Barker and Cartouche II with Linda Wright, Charles and Becky Britton
The invincible Hannah Barker and Cartouche II recorded their third consecutive victory in the Amateur 1.10m Final.
The pair had fired a warning shot on day one with a win and returned to head the grand prix with an incredible nine seconds to spare in a six-horse decider.
Hannah's uncle Paul Barker had borrowed the 16-year-old for Bramham a couple of weeks earlier as Hannah has concentrated on ponies and European trials.
"It helps as Paul keeps him ticking over and the size of the fences doesn't matter, he's careful and he enjoys it," said Hannah.
Charlotte Horne denied Hannah a hat-trick, taking day one's class by 0.21 sec on the nine-year-old mare F Kawnah IS.
Results
BIG TOUR 1.45m JUMP-OFF
1st Annabel Shields & Creevagh Carisma – GBR – 0/0 – 36.68 seconds
2nd Louise Simpson & Fiona V/H Lemmenshof – GBR – 0/0 – 38.22 seconds
3rd Mark Armstrong & Juharah – GBR – 0/0 – 40.44 seconds
4th Jamie Wingrove & Happydam – GBR – 0/0 – 40.59 seconds
5th Louise Saywell & Sharp Image – GBR – 0/4 – 38.53 seconds
6th Anthony Condon & Zira V/H Kapelhof Z – IRE – 0/4 – 38.61 seconds
BIG TOUR 1.45m TWO-PHASE
1st Paul Barker & Dalton W – GBR – 0/0 – 32.05 seconds
2nd Louise Saywell & Sharp Image – GBR – 0/0 – 32.71 second
3rd Faye Adams & Demograaf – GBR – 0/0 – 33.33 seconds
4th Millie Allen & Quinu Du Pravia – GBR – 0/0 – 34.07 seconds
5th Jamie Wingrove & Genesis HB – GBR – 0/0 – 34.90 seconds
6th Mark Armstrong & Fabienne – GBR – 0/0 – 35.58 seconds
WORLD RANKING 1.45m GRAND PRIX
1st Anthony Condon & Zira VH Kapelhof Z – IRE – 0/0 – 28.49 seconds
2nd Julie Welles & Constable II – USA – 0/0 28.97 – seconds
3rd Richard Howley & Seahorse Z – IRE – 0/0 – 28.98 seconds
4th David Simpson & Gentleman VH Veldhof – IRE – 0/0 – 29.48 seconds
5th Max Routledge & Balulu – GBR – 0/0 – 29.89 seconds
6th Jamie Wingrove & Happydam – GBR – 0/0 – 29.93 seconds
MEDIUM TOUR 1.40m TWO-PHASE
1st Paul Barker & Happy Boy – GBR – 0/0 – 31.45 seconds
2nd Geoff Billington & Corvette Van Overis Z – GBR – 0/0 – 33.98 seconds
3rd Mark Armstrong & Fabienne – GBR – 0/0 – 34.20 seconds
4th David Simpson & Gentleman VH Veldhof – IRE – 0/0 – 35.52 seconds
5th Sarah Billington & Uforia JX – GBR – 0/0 – 37.44 seconds
6th Charlotte Arnold & Leestone Blue Voltet – GBR – 0/0 – 37.46 seconds
1.40m ACCUMULATOR
1st Nathan Bull & Janice – GBR – 65 points – 47.19 seconds
2nd Nicole Pavitt & Gemmarco 16 – GBR – 65 – 47.68 seconds
3rd Max Routledge & Sandro's Boy Z – GBR – 65 – 47.86 seconds
4th Millie Allen & Chantal – GBR – 65 – 48.83 seconds
5th Alexander McLean & Gino F – GBR – 65 – 49.36 seconds
6th Sarah Billington & Unforia JX – GBR – 65 – 51.82 seconds
TABLE C SPEED 1.40m
1st Paul Barker & Happy Boy – GBR – (4) 61.45 seconds
2nd Millie Allen & Chantal – GBR – (4) 62.59 seconds
3rd Steven Franks & Carlow Cruiser – 63.19 seconds
4th Alexander McQueen & Gino F – (4) 64.76 seconds
5th Mark Armstrong & Fabienne – (4) 67.39 seconds
6th Chris Smith & Flaming De Pravia – 68.02 seconds
SMALL TOUR 1.30m JUMP-OFF
1st Alec Trickett & One Two Watch II – GBR – 0/0 – 37.83 seconds
2nd Paul Barker & Crispina Z – GBR – 0/0 – 38.18 seconds
3rd Louise Saywell & Carolus K DHI – GBR – 0/0 – 38.23 seconds
4th Keith Shore & Checkmate Z – GBR – 0/0 – 39.91 seconds
5th Corinne Collins & Dolores P – GBR – 0/0 – 41.51 seconds
6th Charlotte Geddes & Caelle – GBR – 0/0 – 41.51 seconds
1.30m TWO-PHASE
1st Louise Saywell & Carolus K DHI – GBR – 0/0 – 29.01 seconds
2nd Keith Shore & Checkmate Z – GBR – 0/0 – 29.35 seconds
3rd Corinne Collins & Dolores P – GBR – 0/0 – 29.87 seconds
4th Laura Johnson & Euphoria HST – GBR – 0/0 – 29.96 seconds
5th Adam Ellery & Fairway – GBR – 0/0 – 30.65 seconds
6th Paul Barker & Crispina Z – GBR – 0/0 – 30.78 seconds
SMALL GRAND PRIX
1st Louise Saywell & Carolus K DHI – GBR – 0/0 – 34.46 seconds
2nd Keith Shore & Checkmate Z – GBR – 0/0 – 35.84 seconds
3rd Faye Adams & Demograaf – GBR – 0/0 – 36.28 seconds
4th Corinne Collins & Dolores P – GBR – 0/0 – 36.62 seconds
5th Paul Barker & Crispina Z – GBR – 0/0 – 37.37 seconds
6th Millie Allen & Catara 4 – GBR – 0/0 37.42 seconds
6-YEAR-OLD FINAL
1st Charlie Jones & Vins VD Tojopehoeve Z – GBR – 0/0 36.17 seconds
2nd Anthony Condon & SFs Mirage – IRE – 0/0 – 36.60 seconds
3rd Harry Whall & Kings Borough Kasper – GBR – 0/0 36.99 seconds
4th Christie Pritchard & Improver – GBR – 0/0 – 39.63 seconds
5th Chantelle Duggan & Linton De La Chapelle – GBR – 0/4 35.27 seconds
6th Angel Tough & Righteous – GBR – 0/4 – 40/48 seconds
AMATEUR 1.20m JUMP-OFF
1st Sarah Winterbottom & Gordulane – GBR – 0/0 – 35.43 seconds
2nd Iwan Carpenter & Merllyn's Chacco B – GBR – 0/0 – 36.68 seconds
3rd Grace Wallace & Eau Claire V – GBR – 0/0 – 39.48 seconds
4th Beth Smart & Sandors Legacy – GBR – 0/4 – 37.39 seconds
5th Debbie Lawrence & Berlin Van Kloosterholt – GBR – 0/4 – 40.13 seconds
6th Samantha Livesey & Cupido – GBR – 0/8 – 50.25 seconds
AMATEUR 1.20m TWO-PHASE
1st Vicky Lovegrove & Codean – GBR – 0/0 – 32.18 seconds
2nd Iwan Carpenter & Merllyn's Chacco B – GBR – 0/0 – 33.98 seconds
3rd Sarah Winterbottom & Gordulane – GBR – 0/0 –34.38 seconds
4th Georgia Cabb & Uragan – GBR – 0/0 – 34.42 seconds
5th Abbie Bevan & Halicant Jo-R – GBR – 0/0 – 38.59 seconds
6th Izzy Watson & Luxalike – GBR – 0/0 – 38.86 seconds
AMATEUR 1.20m FINAL
1st Georgia Cabb & Uragan – GBR – 0/0 34.35 seconds
2nd Iwan Carpenter & Merllyn's Chacco B – GBR – 0/0
3rd Abbie Bevan & Halicant Jo-R – GBR – 0/0 36.58 seconds
4th Peter Shaw & Queen Mary – GBR – 0/0 – 38.09 seconds
AMATEUR 1.10m JUMP-OFF
1st Charlotte Horne & F Kwanah IS – GBR – 0/0 – 36.90 seconds
2nd Hannah Barker & Cartouche II – GBR – 0/0 – 37.11 seconds
3rd Grace Wallace & Ecarentina – GBR – 0/0 – 46.47 seconds
4th Angela Eardley & Forrella TS – GBR – 0/4 – 42.54 seconds
5th Christina Foley & Caruno – GBR – 0/E
6th Ondine King & Una's Song – GBR – 1/- – 89.36 seconds
1.10m TWO-PHASE
1st Hannah Barker & Cartouche II – GBR – 0/0 – 32.37 seconds
2nd Madison McCrory & Wynton D – GBR – 0/0 – 33.48 seconds
3rd Angela Eardley's Forrella TS – GBR – 0/0 – 33.96 seconds
4th Grace Wallace & Ecarentina – GBR - 0/0 – 35.25 seconds
5th Chloe Scott & Invisible Power N – GBR – 0/0 – 35.99 seconds
6th Rachel Lees & Candle Line – GBR – 0/0 –
AMATEUR 1.10m FINAL
1st Hannah Barker & Cartouche II – GBR – 0/0 – 35.05 seconds
2nd Ondine King & Una's Song – GBR – 0/0 – 44.87 seconds
3rd Angela Eardley & Forrella TS – GBR – 0/4 39.19 seconds
4th Jessica Whall & Dolcendro L – GBR – 0/4 40.76 seconds
5th Grace Wallace & Ecarentina – GBR – 0/4 – 41.66 seconds
6th Chloe Scott & Invisible Power N – GBR – 0/8 – 43.00 seconds