British Showjumping Winter Pony Championships
Monday 08 April 2019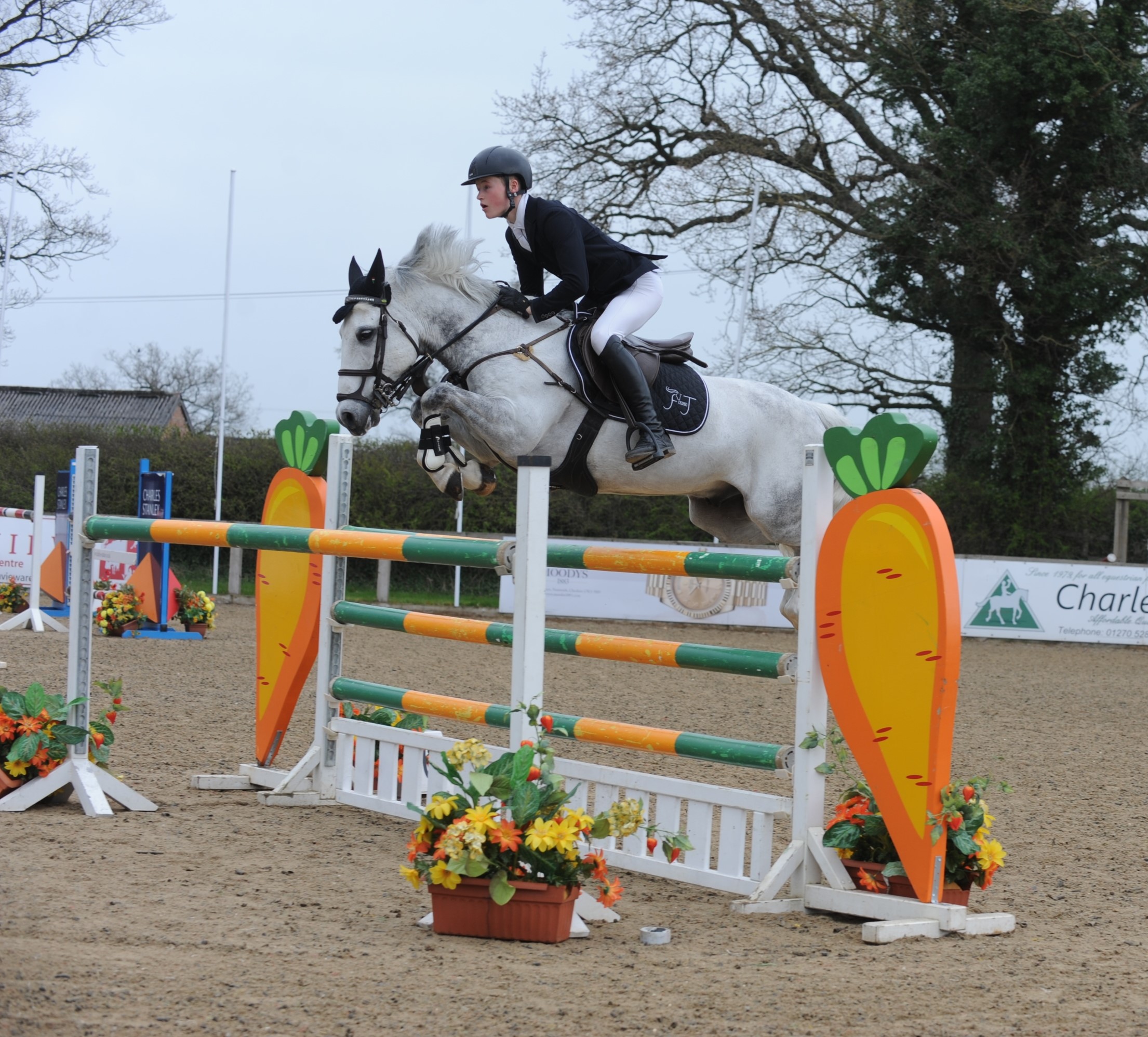 Tom Francis-Jones landed the feature Charles Britton Equestrian Construction Winter JA Classic on the smallest pony in the class in a thrilling finale at the Pony Winter Championships.
The small but mighty Kiltormer Hero only stands at 138cm but there was no lack of scope or stride as the Irish-bred 15-year-old tackled course-designer Gillian Milner's 11-fence track with gusto over the newly-laid outdoor surface at South View Equestrian Centre and Tom posted the first clear in round one with ease.
They were joined by four others for a jump-off of five from sixteen starters, Tom setting an unbeatable target from the opening draw to take the title.
"He likes it here [at South View], we qualified for the final here and distances are no problem, I almost have to hold him in doubles and combinations," said Tom, who competed at top level 138cm taking in Horse of the Year Show and the Royal International at Hickstead with this game, ever-eager pony.
"He's so switched on and intelligent and he has plenty of power and stride, I just made sure he was balanced and square to the fences and it was a lovely, flowing course," said Tom, who credited his mum and owner of Hero for all her input – "I cannot thank her enough for all her time and advice, I couldn't have done it without her."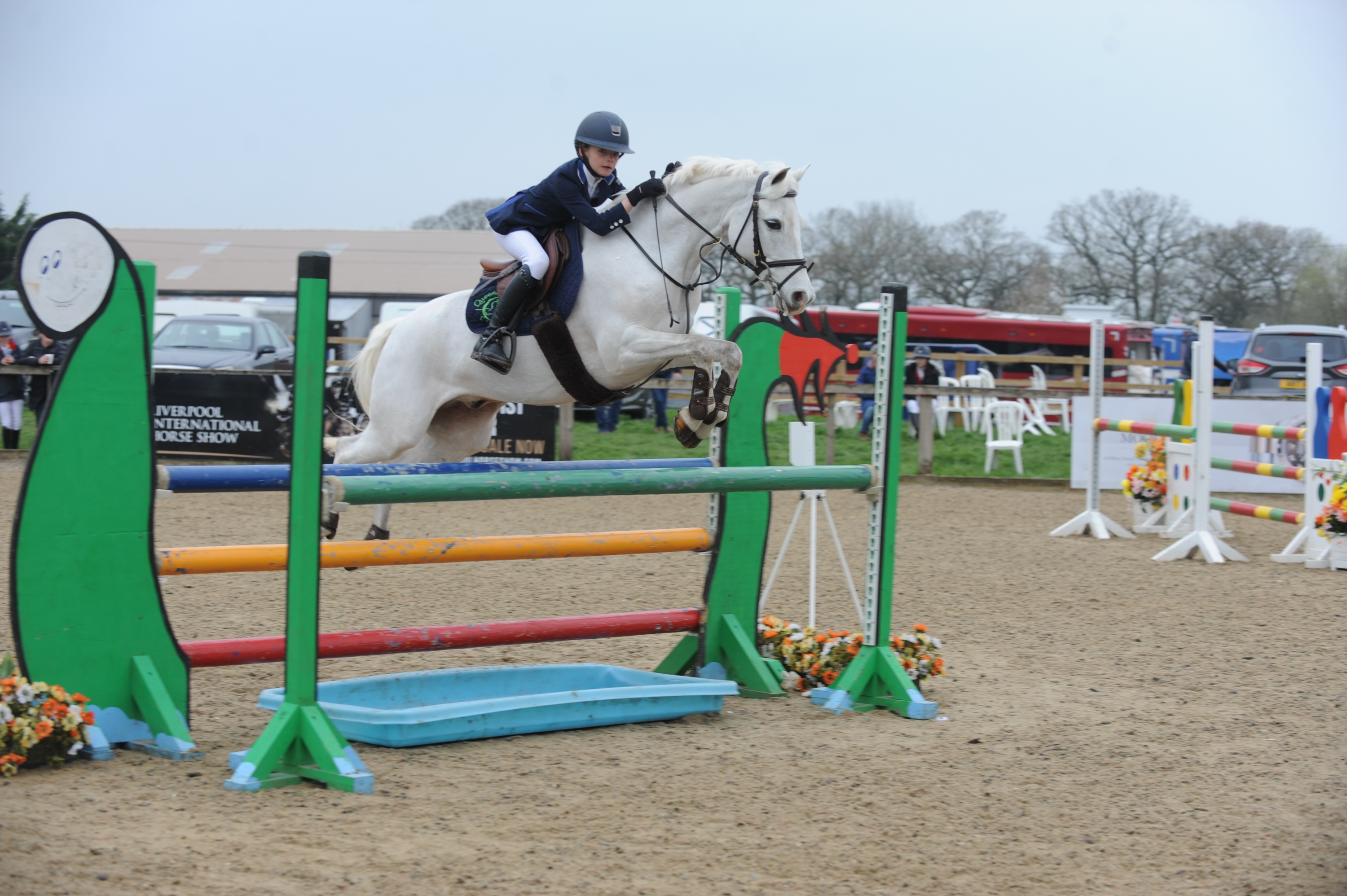 Tabitha Kyle, 12, has been on top form all winter with a record-breaking number of wins over the national small pony winter premier series and this show was no different as she claimed a convincing victory hat-trick. Tabitha got off to a flying start with a win in the British Showjumping 128/138cm handicap special final and headed the concluding 128cm and 138cm grand prix titles.
She secured the 128/138cm special with 2.72 seconds to spare in a 10-pony jump-off with Emma Young's Caher Silver, a 12-year-old she has ridden for just two months.
"He rides beautifully and he's careful with a big stride," said Tabitha.
Tabitha also proved unbeatable in the 128cm grand prix, using her final draw to secure the title with more than five seconds in hand on the 9-year-old Borderhill William in a four-pony jump-off.
And she added the 138cm grand prix to her tally, underscoring her talent with first, second and fourth places aboard the 15-year-old Lissduff Royal and the 8-year-olds Mister Proper and Playboy Van De Zoetewei in an exciting seven-pony decider.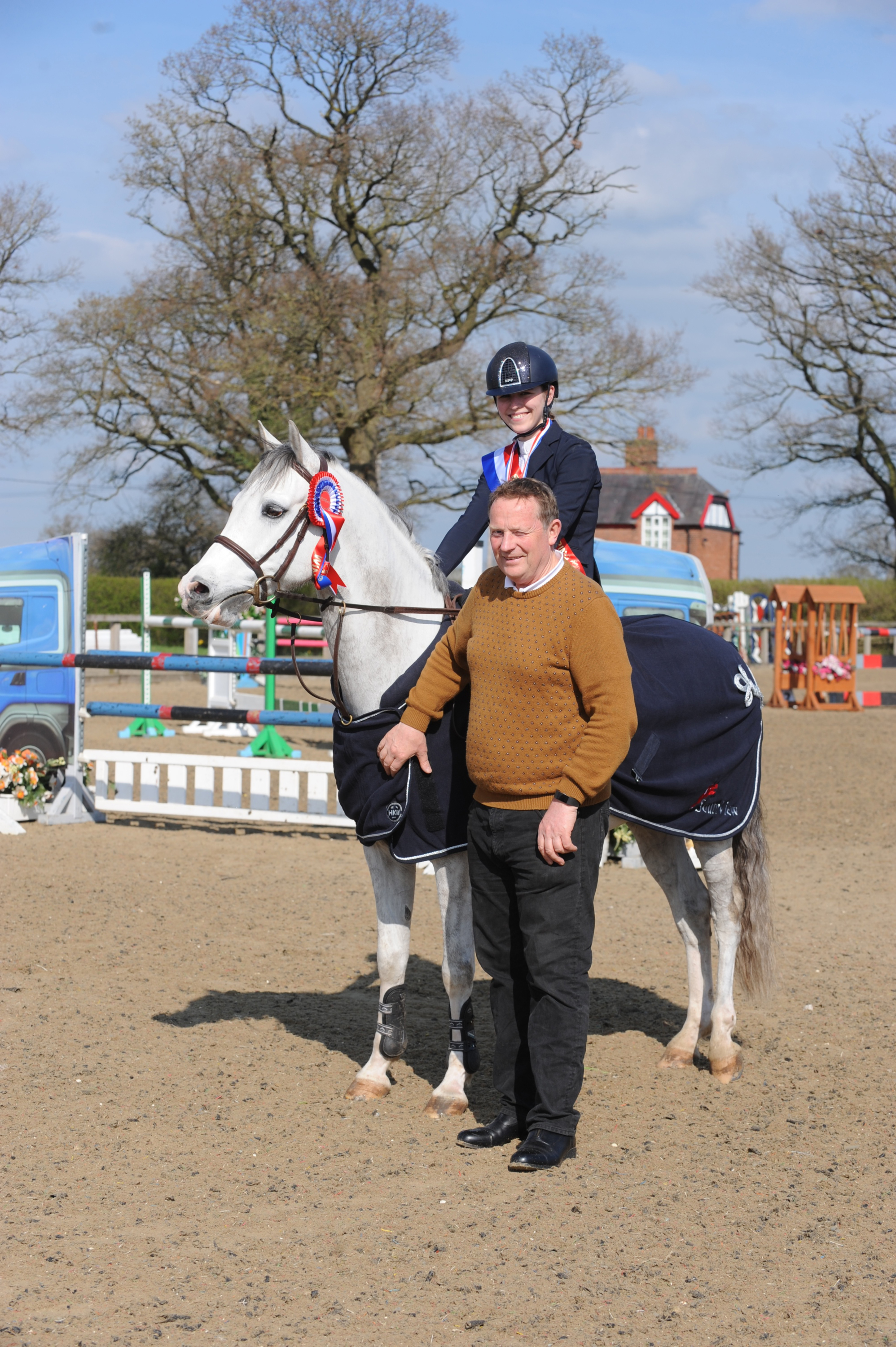 Inside lines and a flying, angled approach to the final vertical secured the winter 1.10m title for Glain Watkin Jones on Trevor H by just 0.13 seconds in the eight-strong jump-off.
"I had planned to go round on the wider options to a couple of fences but once I was in the ring I decided to turn much tighter and he likes to go quicker," said Glain, 15.
The German-bred 8-year-old owned by Iona Watkin Jones was purchased last October and this was only their second outdoor show together.
"He's very laid-back and chilled at home and he loves going in the field every day, but he brightens up at a show and I like it, he's much more forward-going," added Glain.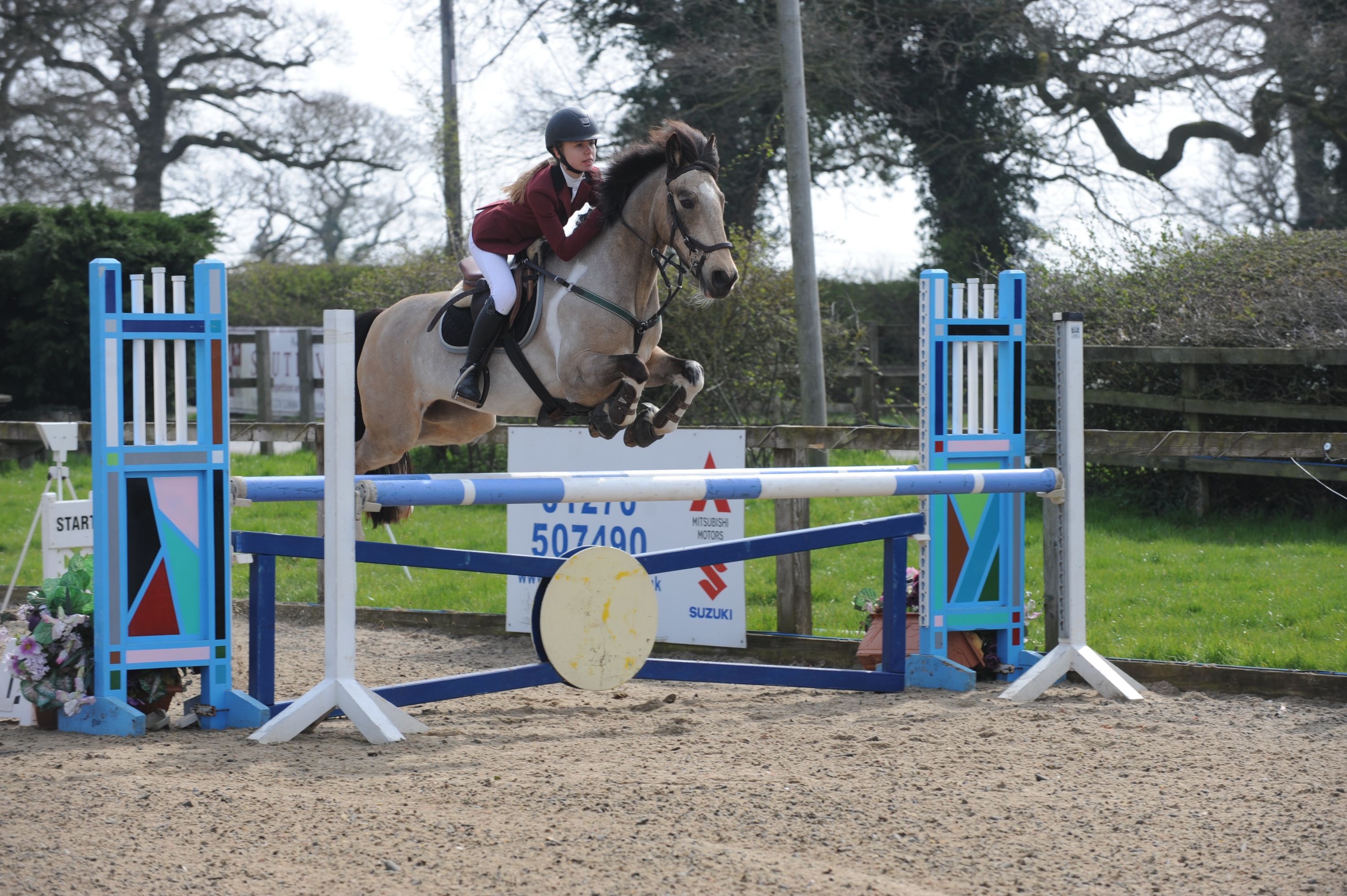 Norfolk-based Lila Davies galloped to victory to claim the Springboard 138cm final by an impressive 5.30 seconds with Sharon Mitchell's 14-year-old Dun N Dust It.
Only six from 24 starters posted round one clears to reach the jump-off but no-one could catch mid-drawn Lila, 11, and the speedy Dun and Dust It.
"He's fast and covers the ground but he's quite strong, tricky and not at all straightforward, it has taken time to get to know him, I've learnt to go with him and trust him," said Lila, who acquired the ride last June.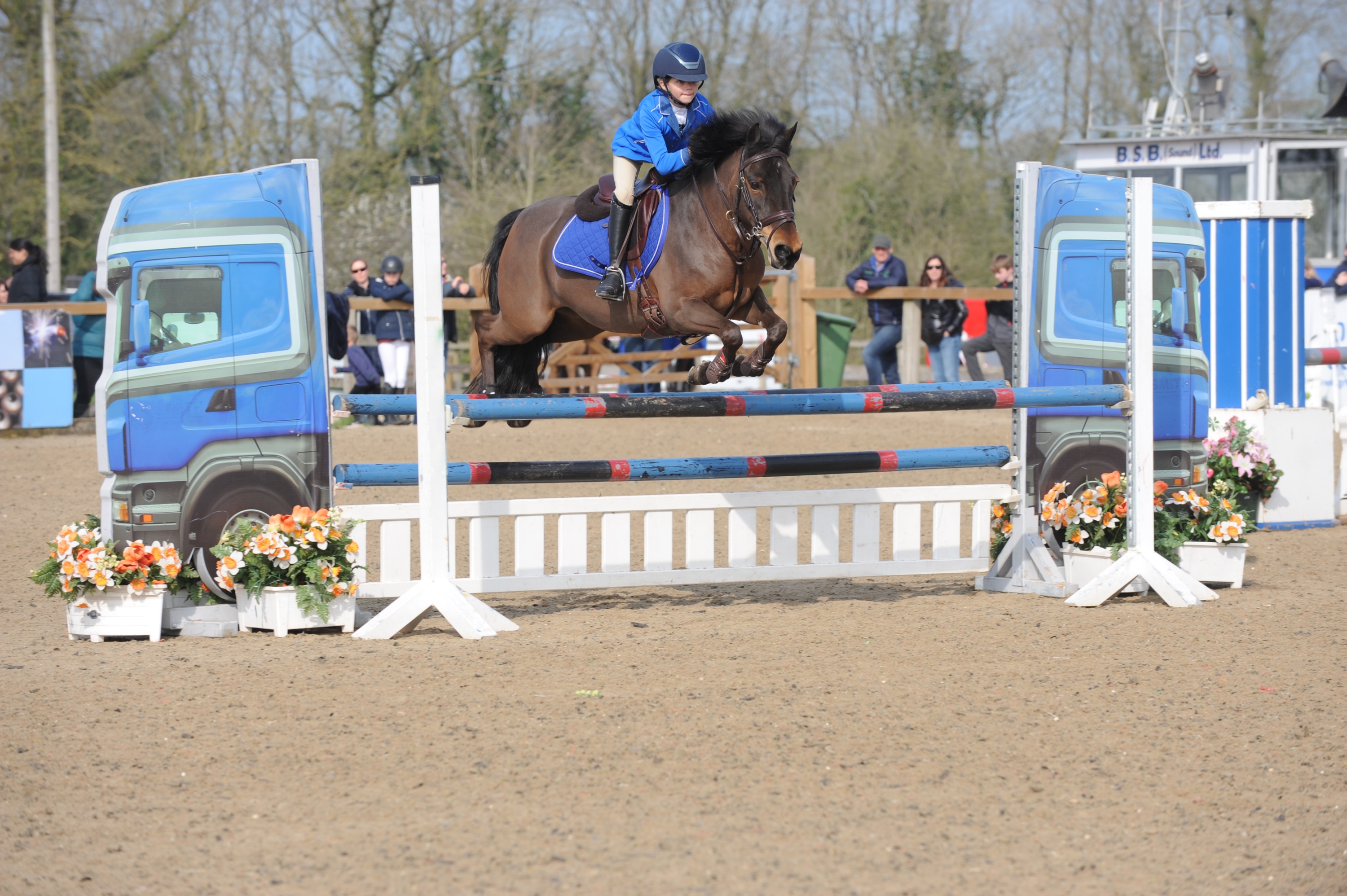 Diminutive 9-year-old Hollie Gerken scored a great double victory with the Springboard 128cm final on Dimples Dilema and the 10-year-old and under Style and Performance title on Killaloe Gypsy. It was a great achievement as Hollie was only jumping at 70cm unaffiliated level until mum Jade Burley bought both 19-year-old mares in Ireland last September.
Colchester, Essex-based Hollie was one of eight from 20 starters in the jump-off of the Springboard 128cm championship and produced one of only two double clears, winning with almost seven seconds to spare on Dimples Dilema.
"I love Dimples, she's awesome and gives me so much confidence, she just takes me to the fences," said Hollie, who relies on trainer Sue Harris for advice.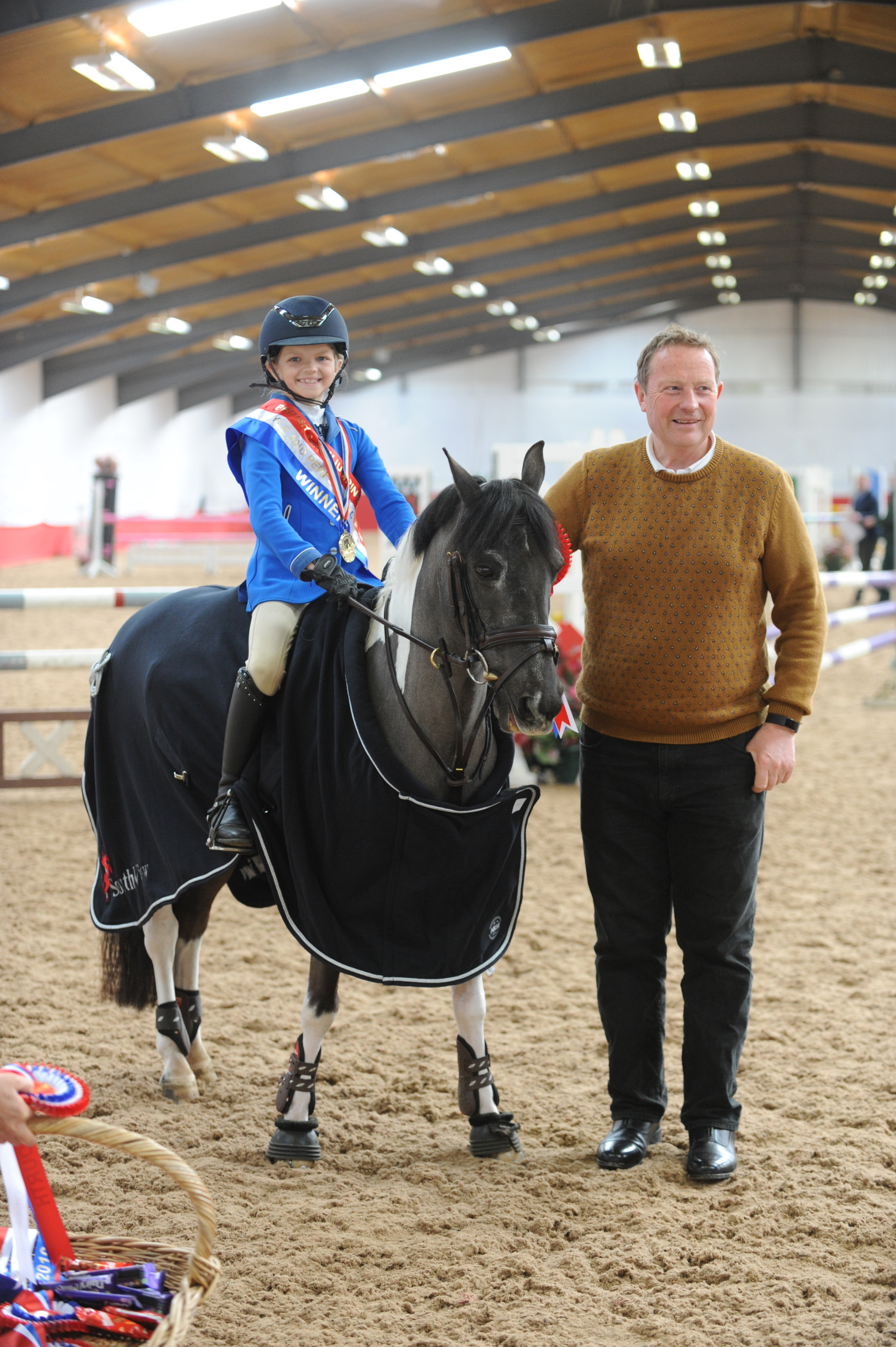 And the day wasn't over as Hollie rode neat, flowing rounds in the 10-year-old and under Style and Performance final to win by just one point on Killaloe Gypsy.
"She's easy and forward-going and very trustworthy," said Hollie, who is so happy to have taken over the rides on two top under 10 ponies from Ireland's Lauren Adams – "They are both amazing."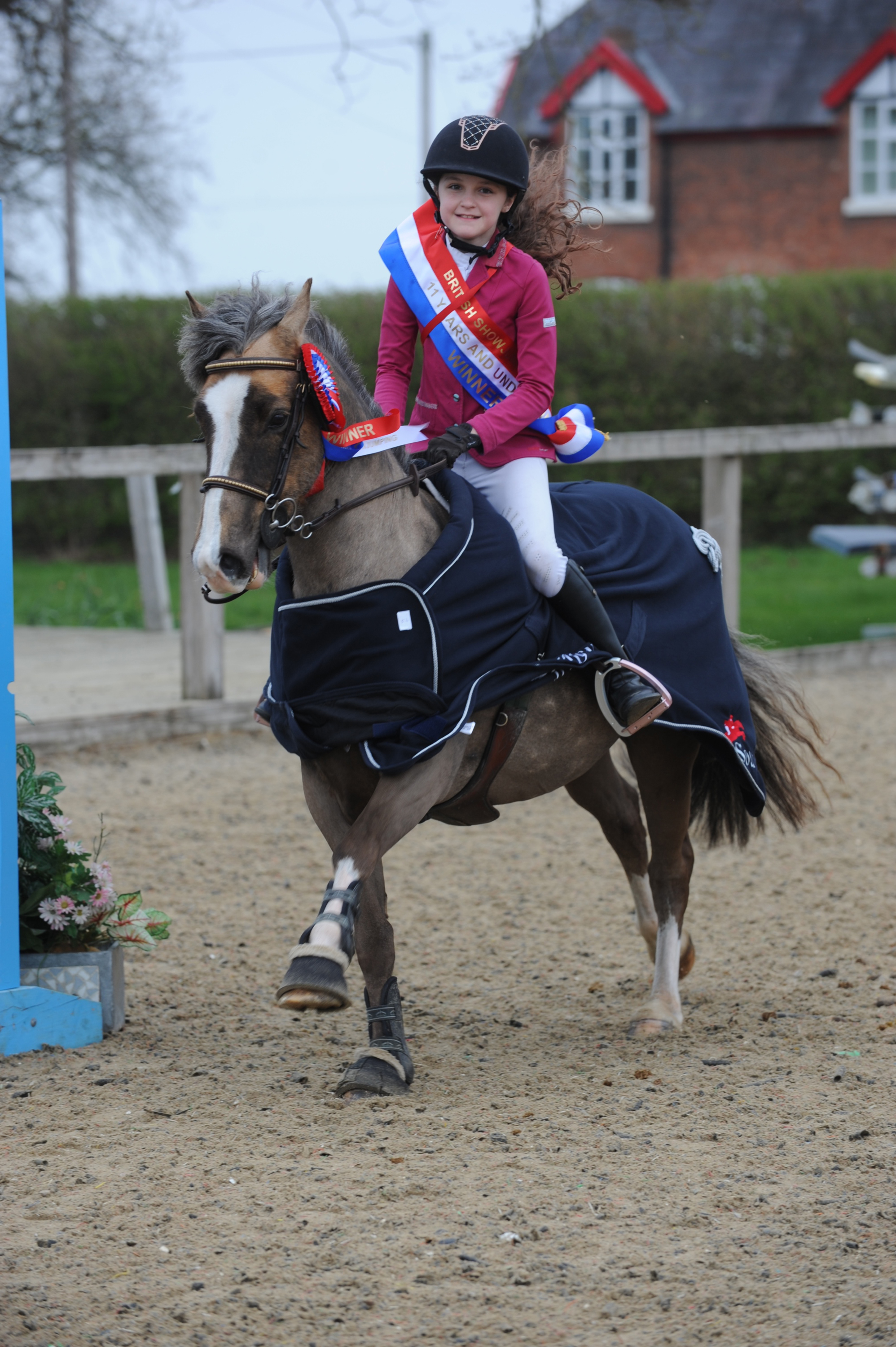 Bella Wild, 10, maxed on her final draw in a 14-pony jump-off to secure the 11-year-old and under title on Paula Pope's Cefn Sweetlife, an 8-year-old palomino mare she has ridden for six months but only purchased two months ago.
The pair have quickly established a partnership.
"I was a bit nervous as sometimes she takes charge, but I trust her and she never stops," said Chester-based Bella, who took a breath-taking ultra-tight turn to the last to register her first big win.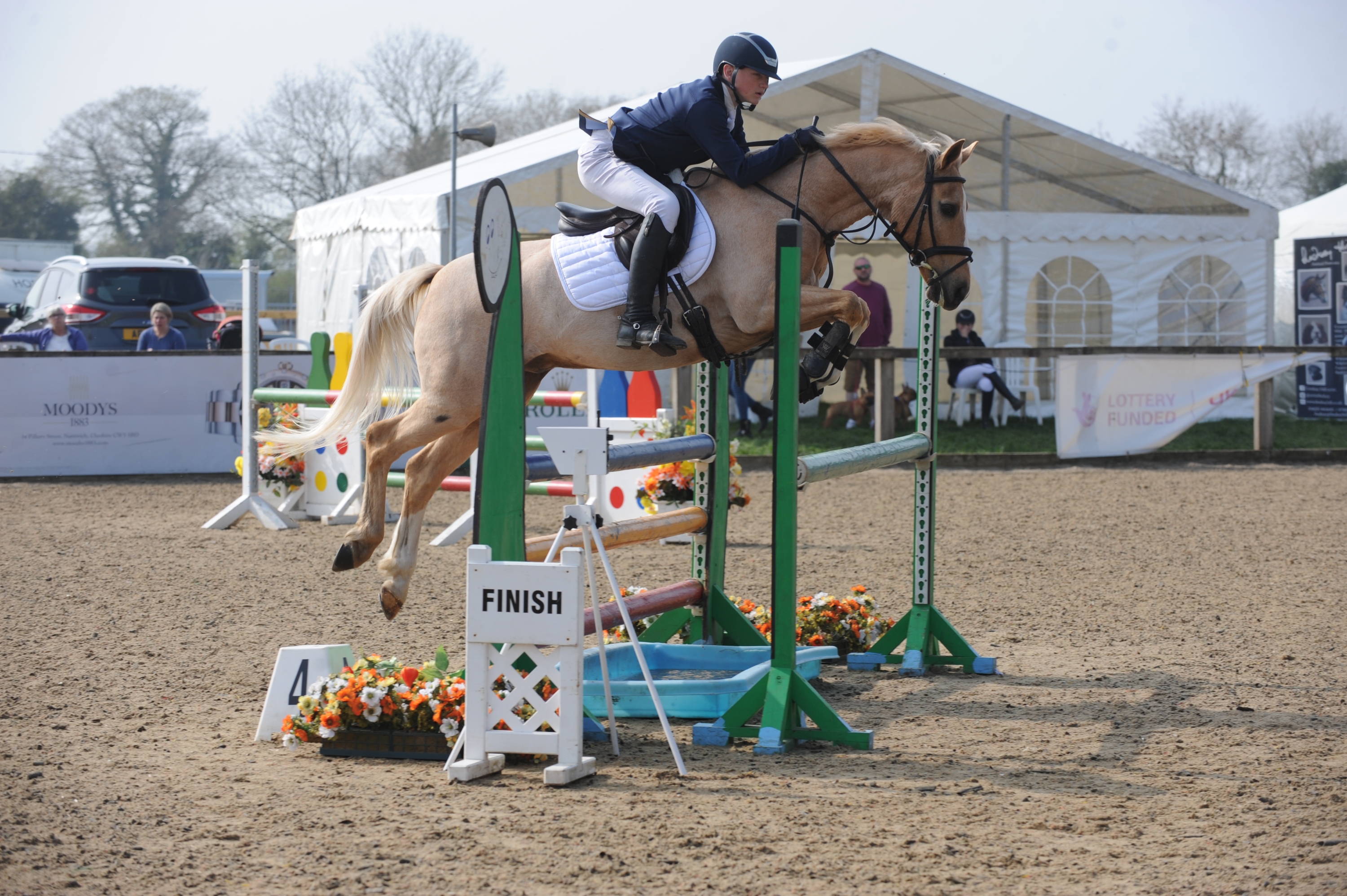 Jake Barton set a sizzling opening standard in the seven-pony jump-off of the Winter 1m Championship to win from the front with a heart-stopping angled turn to the final oxer on Nicki Barton's Opan, a former FEI Eventing 13-year-old he acquired in October.
"I hadn't realised how tight the turn was into the last – if I'd have planned my jump-off I would never had taken that turn but I was last to go on my other pony and first in the jump-off, I didn't have time to plan," said Jake, 14, who only returned to competition at the latter end of the winter season after breaking his hand on a Christmas skiing holiday.
Results
SPRINGBOARD 128CM FINAL
1st Hollie Gerken and Dimples Dilema – 0/0 40.60 seconds
2nd Persia Calderbank & Bylands Music Man – 0/0 47.44 seconds
3rd Ryan de Souza & Mintfield Magic – 0/4 43.93 seconds
4th Isabelle Harris & Ashsars Miami Bound – 0/4 45.43 seconds
5th Ted Holt & Ashurst Quicksilver – 0/4 47.99 seconds
6th Amelia Tredennick & Rockbury Faccination – 0/4 57.95 seconds
SPRINGBOARD 138CM FINAL
1st Lila Davies & Dun N Dust It – 0/0 39.64 seconds
2nd Keira Bromey & Stadsmorslow Angel – 0/0 44.44 seconds
3rd Alfie Miles & D Amour D Amerrier – 0/4 46.10 seconds
4th Isabelle Doyle & Bobby Sox – 0/4 50.32 seconds
5th Charlie Clapham & Little Madam II – 0/4 52.48 seconds
6th Alfie Miles & Milika – 0/8 62.40 seconds
WINTER 1.10M PONY CHAMPIONSHIP
1st Glain Watkin Jones & Trevor H – 0/0 38.22 seconds
2nd Francesca Young & Quantico – 0/0 38.35 seconds
3rd Ellie Ward & Jumping Charlie V – 0/0 45.79 seconds
4th Ellie Thomas & Pocahatas – 0/4 44.82 seconds
5th Seamus Taylor & Priestown Tomboy – 0/4 52.92 seconds
6th Jake Gibson & Ilar Max – 0/8 38.32 seconds
BRITISH SHOWJUMPING 10-YEAR-OLD & UNDER STYLE & PERFORMANCE CHAMPIONSHIP
1st Hollie Gerkin & Killaloe Gypsy – 272 points
=2nd Persia Calderbank & Bylands Music Man – 271 points
= 2nd Lexi Knot & Senateview Grace – 271 points
4th Holly Gerkin & Dimples Dilema – 265 points
5th Cate Kerr & Taggarts Express – 244 points
6th Sula von Bulow & Bellfield Benjamin – 232 points
BRITISH SHOWJUMPING 128/138CM HANDICAP SPECIAL FINAL
1st Tabitha Kyle & Caher Silver – 0/0 32.60 seconds
2nd Keira Bromley & Stradsmorslow Angel – 0/0 35.32 seconds
3rd Evie Banks & Mayfly Green Peter – 0/0 38.85 seconds
4th Rachel Proudley & Icaris W – 0/0 45.09 seconds
5th Poppy Deakin & Astral Ruben – 0/4 32.94 seconds
6th Lila Davies & Dun N Dust It – 0/4 34.16 seconds
CHARLES BRITTON EQUESTRIAN CONSTRUCTION WINTER JA CLASSSIC CHAMPIONSHIP
1st Tom Francis-Jones & Kiltormer Hero – 0/0 45.39 seconds
2nd Holly Cooper & Beechcomber – 0/0 42.10 seconds
3rd Tatiane Mauree & Horseabout Zibu – 0/4 42.89 seconds
4th Red Morgan & Bodysee Des Avelines – 0/4 47.30 seconds
5th Francesca Young & Carnhill Luna – 0/13 63.23 seconds
6th Alice Weightman & Epapke – 2 84.29 seconds
11-YEAR-OLD & UNDER CHAMPIONSHIP
1st Bella Wild & Cefn Sweetlife – 0/0 30.56 seconds
2nd Sienna Palin & Kip Kip Hooray – 0/0 31.99 seconds
3rd Sienna Palin & Calusa – 0/0 32.51 seconds
4th Amelia Tredinnick & Rockbury Faccination – 0/0 32.94 seconds
5th Persia Calderbank & Bylands Music Man – 0/0 35.22 seconds
6th Sula von Bulow & Bellfield Benjamin – 0/4 31.29 seconds
WINTER 1m CHAMPIONSHIP
1st Jake Barton & Opan – 0/0 35.62 seconds
2nd Iwan Carpenter & Merllyns Mermaid – 0/0 38.56 seconds
3rd Charlie Rea Nelson & Chase Me Sharlie – 0/4 38.10 seconds
4th Ben Barber Riley & Dylon Brenin Ddfydd – 0/4 42.85 seconds
5th Imogen Hall & FC Flirty For Thirty – 0/8 40.37 seconds
6th Elica Banks & Orchids Aniko – 0/8 58.35 seconds
128CM GRAND PRIX
1st Tabitha Kyle & Borderhill William – 0/0 46.17 seconds
2nd Thomas Hogan & Little Miss Miller – 0/0 51.68 seconds
3rd Connie Mensely & Gemstone Sienna – 0/4 48.87 seconds
4th Sophie Wicks & Camizion – 0/E
138CM GRAND PRIX
1st Tabitha Kyle & Lissduff Royal – 0/0 39.79 seconds
2nd Tabitha Kyle & Mister Proper – 0/0 39.88 seconds
3rd Alfie Miles & D Amour D Amerrier – 0/0 41.38 seconds
4th Tabitha Kyle & Playboy Van De Zoetwewei – 0/4 34.18 seconds
5th Olivia Banks & Ferrybank Roy – 0/4 39.05 seconds
6th Edie Coles & Shappen Pilgrim – 0/4 45.94 seconds
Image Credit: British Showjumping