Charlotte Bevan from Flintshire is February's NAF Shining Star
Wednesday 20 February 2019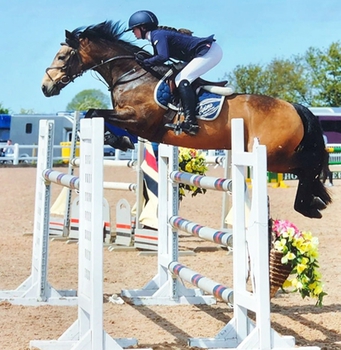 Charlotte Bevan, also known as Charley, has been awarded the NAF Shining Star for February after having shown dedication and a positive attitude. These attributes lead to Charlie being nominated by Clwyd Academy Co-Ordinator and Lead Coach, Amanda Carpenter.
Thirteen year-old Charley from Flint, Flintshire has been a committed and valuable member of the Clwyd Academy and has produced many double clears in team events alongside helping the younger academy members. "Charley is a fantastic character. She is incredibly helpful and brings a smile to everyone's face", said Amanda. "She is a young rider that is a pleasure to have around; she is a humble and willing young lady and is always very well presented."
Charley has shown tremendous progression since joining the academy and her hard work paid off when she qualified her pony Rathcoona James for The Stable Company 138cm Championship at the Horse of the Year Show in 2018. She went on to pick up third place in the 138cm Final at the TheraPlate UK Liverpool International Horse Show in December of the same year.
After finding out she was the winner of February's NAF Shining Star, Charley said "I am overwhelmed to have been nominated by Amanda and I am absolutely delighted to be receiving the award. I really enjoy the training aspect of the academy, I find it really benefits my young ponies as well as my more experienced ponies. I have also made lots of new friends through the Clwyd academy. This year I am aiming to qualify for the JC Final and the 138cm Final at the Royal International Horse Show and I would love to qualify for the Pony Newcomer, the Pony Foxhunter and the 138cm Finals at Horse of the Year Show with my two best ponies Champs Palace and Rathcoona James."
Lisa Field from NAF added "It is fantastic to hear all about Charley, all her hard work and determination is definitely paying off with the results she is achieving, especially qualifying for Horse of the Year Show. Charley sounds like a great character and lovely to be around! Congratulations Charley, a very worthy winner of this month's Shining Star Award, we wish you every success for the future!"
Charley will now receive a number of NAF Equine products to use alongside the products that she is already using such as the 'Silky Mane and Tail D Tangler' and 'Muck Off'.
The NAF Shining Star Award was introduced when NAF became a British Showjumping Business Partner. The award is for members of a Junior Academy who have shown a great deal of commitment, progression and outstanding behaviour along with their riding ability and much more. Riders are nominated by their lead coach, and then judged and awarded by NAF to one person each month.