Rhys Jones scores a win in the Nupafeed Supplements Senior Discovery Second Round at Aintree International Equestrian Centre
Tuesday 25 June 2019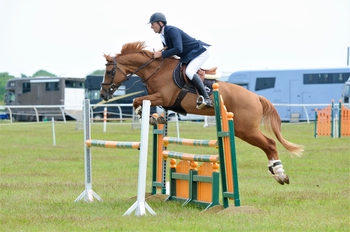 Aintree International Equestrian Centre in Liverpool proved to be a popular choice with riders as fifty-five combinations came forward to take on Ian Clark's track, all aiming to jump the all-important treble clear to gain a qualifying ticket to the Nupafeed Senior Discovery Championship Final held at the British Showjumping National Championships at Stoneleigh Park, Warwickshire in August.
Fourteen of the initial starting field went through to the final jump-off but only eight could navigate their way across the course faultlessly. Wrexham based Rhys Jones came out on top with the Quidam De Revel sired six year-old Belgium bred mare No Limit V, owned by Colin Bevan. They produced a treble clear in 35.16 seconds, the fastest time of the class and 2.34 seconds quicker than his nearest rival.
Rachael Connor piloted her own Juvenosa, a 5 year-old Dutch bred mare who has only been competing since November, into second place after crossing the line in 37.50 seconds whilst Georgia Hilton and Newtowns Discovery B, a 5 year-old German bred mare owned by Georgina Hilton whom Georgia had only competed once before the show, were close behind in third with a treble clear in 37.75 seconds.
Five others went on to produce treble clears resulting in a total of eight combinations now going forward to the Nupafeed Supplements Senior Discovery Championship Final.
Aintree International Equestrian Centre – Sunday 23rd June 2019
Nupafeed Supplements Senior Discovery Second Round
1st Rhys Jones & No Limit V – 0/0/0 - 35.16 seconds
2nd Rachel Connor & Juvenosa – 0/0/0 – 37.50 seconds
3rd Georgia Hilton & Newtowns Discovery B – 0/0/0 – 37.75 seconds
4th Emily Morris & Bean Cruising – 0/0/0 – 38.35 seconds
5th Charlotte Dyer & Annestown Royale Capitalist – 0/0/0 – 41.05 seconds
6th Tracey Langford & One Star – 0/0/0 – 43.28 seconds
7th Laura Mizon & Roberto IV – 0/0/0 – 44.42 seconds
8th Jennifer Brookfield & Ilona VIII – 0/0/0 – 45.04seconds
NB: Qualifications will be updated pending official grading of results.
Image: Rhys Jones & No Limit V in the Nupafeed Senior Discovery Second Round at Aintree Equestrian Centre [Credit: Majestic Photography]
The British Showjumping National Championships 2019 will take place during the 6th – 11th August at the National Agricultural and Exhibition Centre (NAEC), Stoneleigh Park, Warwickshire.