Carmen Edwards takes the top spot in the British Horse Feeds Speedi-Beet HOYS Grade C Qualifier at The Cheshire Horse Show
Wednesday 29 May 2019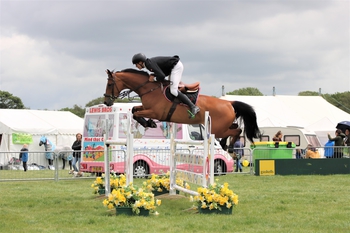 Formerly known as the Warrington Horse Show, this year's Cheshire Horse Show, held at Tabley Park near Knutsford, Cheshire, proved to be a popular choice with riders as forty-three combinations came forward on Bank Holiday Monday with the hopes for the British Horse Feeds Speedi-Beet HOYS Grade C Qualifier.
Course designer Susan Barratt set a first-round-track that only ten of the initial starters managed to defeat. Those ten were halved again as five combinations produced a double clear leaving the clock to decide who would gain the three qualifying tickets on offer for the British Horse Feeds Speedi-Beet HOYS Grade C Championship Final at Horse of the Year Show.
Carmen from Ellesmere, Shropshire produced an electric round on Carl Edwards' Happy Valerie, a 7 year-old Dutch bred who Carmen has competed for two years, crossing the finish line with 3.27 seconds to spare in 42.50 seconds. Steph Callwood was Carmen's closest rival aboard her own Opis Day, an 11 year-old British bred gelding, they posted a time of 45.77 seconds. Paul Barker gained third place with Tracy Holder's Crispina Z, a 9 year-old mare who Paul and Tracey share the ride on, they finished in 46.33 seconds.
The Cheshire Horse Show – Monday 27th May 2019
British Horse Feeds Speedi-Beet HOYS Grade C Qualifier
1st Carmen Edwards & Happy Valerie – 0/0 – 42.50 seconds
2nd Steph Callwood & Opis Day – 0/0 – 45.77 seconds
3rd Paul Barker & Crispinia Z – 0/0 – 46.33 seconds
NB: Qualifications will be updated pending official grading of results.
Image: Carmen Edwards and Happy Valerie at The Cheshire Horse Show (Credit: Margaret Shaw)
The Horse of the Year Show 2019 will take place from the 2nd – 6th October at Birmingham's NEC.
ENDS
Notes to Editors:
For further media enquiries, please contact the British Showjumping Press Office on 02476 698806 or press@britishshowjumping.co.uk
Speedi-Beet from British Horse Feeds:
British Horse Feeds, makers of Speedi-Beet, is the equine feed division of I'Anson Bros Limited and is based in Masham, North Yorkshire. British Horse Feeds is best known for its flagship product 'Speedi-Beet' which, thanks to the unique patented process has revolutionized the feeding of beet pulp. Speedi-Beet has improved nutrient availability and soaks in just 10 minutes, compared to 24 hours for sugar beet pellets. It's a great way to add quality fibre to your horse's diet for slow release energy. Fibre-Beet, a formulated blend containing Speedi-Beet and alfalfa has the benefits of Speedi-Beet with extra conditioning. For more information contact British Horse Feeds on 01765 680300 or visit our website on www.britishhorsefeeds.com.