Charlotte Pudge wins the KBIS Insurance Senior British Novice Second Round at Aston Le Walls Equestrian Centre
Monday 30 July 2018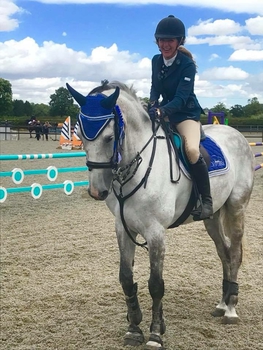 Charlotte Pudge seized victory in the KBIS Insurance Senior British Novice Second Round at Aston Le Walls Equestrian Centre in Daventry, Northampstonshire, on her own Cassinaro Dream.
Thirty-five combinations contended this final second round qualifier of the 2018 summer season and thirty hopefuls produced first round clears over course-designer Kevin Bull's 10-fence track. Just two were lost on the way in round two with twenty-eight going forward to a strong jump-off.
Charlotte, from Ledbury, Herefordshire, again jumped a confident round, holding off all challenges to win by an impressive 1.22 seconds on Cassinaro Dream, an eight-year-old grey gelding she has competed for the last 10 months. Charlotte also frequently trains with Rose Tillson.
Seventeen on-form horse and rider combinations provided treble clears to go forward to the KBIS Insurance Senior British Novice Final at the British Showjumping National Championships.
Aston Le Walls Equestrian Centre – Saturday 28th July 2018
KBIS Insurance Senior British Novice Second Round
1st Charlotte Pudge & Cassinaro Dream – 0/0/0 - 35.56 seconds
2nd Trudy Johnson & Catch Me If You Can IV – 0/0/0 - 36.78 seconds
3rd Amber Owen & Could Be Gold – 0/0/0 - 38.75 seconds
4th Ryan Page & Dstud Mondello – 0/0/0 - 38.88 seconds
5th Jenna King & Loughehoe Gracie May – 0/0/0 - 38.99 seconds
6th Jasmine Gill & Roundthorn Firebrand – 0/0/0 - 39.11 seconds
7th Amber Owen & Welcome Vivendi – 0/0/0 - 39.62 seconds
8th Orla Morrin & Kalindi K – 0/0/0 - 39.67 seconds
9th Claire Robertson & Hamara II – 0/0/0 - 41.05 seconds
10th Stephanie Gunn & Quicksand III – 0/0/0 - 41.79 seconds
11th Sally Butler & Rainstown Michael – 0/0/0 - 42.45 seconds
12th Ryan Page & Remus Third Time Lucky – 0/0/0 - 42.69 seconds
13th Sarah Smithard & Contendros Girl – 0/0/0 - 44.52 seconds
14th Laura Wakefield & Helendro – 0/0/0 - 45.52 seconds
15th Lisa Maynard & Ferri II – 0/0/0 - 48.94 seconds
16th Heather Davie & Freya VII – 0/0/0 - 49.03 seconds
17th Jeanette Powell & Sire De La Tour Z – 0/0/0 - 50.68 seconds
NB: Qualifications will be updated pending grading of results.
The British Showjumping National Championships 2018 will be hosted at the National Agricultural and Exhibition Centre (NAEC), Stoneleigh Park, Warwickshire during the 7th - 12th August.
KBIS British Equestrian Insurance:
KBIS British Equestrian Insurance is the UK's leading independent horse insurance specialists, With over twenty years of experience KBIS offer a range of policies for the leisure horse to high value sports horses with a range of veterinary cover options. KBIS's product range includes horsebox and trailer insurance, property insurance, event and show insurance, standalone personal accident cover as well as a specialist liability department offer cover for private individuals, businesses and events and shows. For further information, visit www.kbis.co.uk.