Equine Flu Notice for Academy Coordinators, Coaches and Area Representatives,
Wednesday 13 February 2019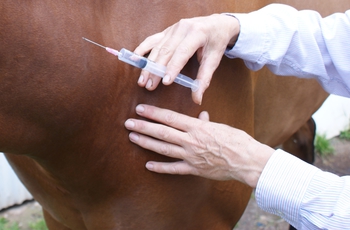 Given the recent Equine Influenza outbreak please can passport checks be carried out at all training to ensure vaccinations comply with our ruling (below). We also strongly advise members that if their horses last vaccination exceeds 6 months that they have an additional booster vaccination. Any equine not complying with the vaccination rules should not be unloaded nor any horses travelling with it and they will not be allowed to participate in the session.
Please can we also remind coaches who are travelling to different yards that they should be implementing their own bio-security measures.
British Showjumping Flu Vaccination Rule 42.5
Flu vaccinations are mandatory for all registered horses and ponies and they must be in possession of a valid flu vaccination certificate. It is the owner's responsibility to ensure that the horse's vaccinations are up to date and correctly recorded on the diagrammatic vaccination record. Spot checks will be regularly carried out at shows. The horse/pony must have received two injections for primary vaccination against equine influenza given no less than 21 days and no more than 92 days apart. Only these two injections need to have been given before a horse/pony can compete in competitions. In addition, a first booster injection must be given no less than 150 days and no more than 215 days after the second injection of the primary vaccination. Subsequently, booster injections must be given at intervals of not more than one year apart.
For more information and latest updates regarding Equine Influenza please see https://www.bef.co.uk/News.aspx