Georgina Ellis triumphs in the Equitop Myoplast Senior Foxhunter Second Round at Arena UK
Monday 22 July 2019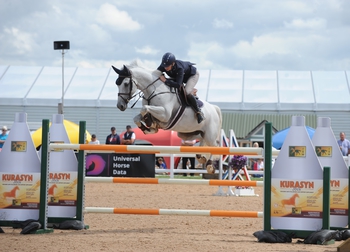 The Lincolnshire based Arena UK Equestrian Centre in Grantham held a whole host of National Qualifiers over the weekend with riders travelling from all over the country to take part. Sixty-five combinations came forward to compete in the Equitop Myoplast Senior Foxhunter Second Round on Sunday but it was Georgina Ellis who fought off strong competition to claim the top spot.
With just two direct qualifying tickets up for grabs for the Equitop Myoplast Senior Foxhunter Championship Final at Horse of the Year Show in October, all riders were hoping for a treble clear. Twenty-seven of the initial starting field progressed to the second round but Course Designer Neil Foster set another challenging track to whittle the numbers down to fourteen for the final round with just five going on to finish on a clean sheet.
Georgina Ellis from Rugby, Warwickshire is no stranger to letting off the handbrake. Having recently been crowned National Point-to-Point Ladies Champion for the sixth time and setting a record breaking number of winners ridden by a lady jockey in one season, Georgina steered her own Fireball X, a 9 Year-old Dutch bred gelding to an unbeatable time of 43.84 seconds, 1.37 seconds faster than her closest rival Eoin Gallagher. Eoin piloted Oakingham Stud's Bigstar Derick, a 7 Year-old French bred by Popstar Lozonais who crossed the finish line in 45.21 seconds.
The top two combinations secured their place in the Equitop Myoplast Senior Foxhunter Championship Final at Horse of the Year Show and the top five took home the chance to compete in the Equitop Myoplast Senior Foxhunter Masters at the British Showjumping National Championships.
Arena UK – Sunday 21st July 2019
Equitop Myoplast Senior Foxhunter Second Round
1st Georgina Ellis & Fireball X – 0/0/0 – 43.84 seconds
2nd Eoin Gallagher & Bigstar Derick – 0/0/0 – 45.21 seconds
3rd Danielle Cuomo & Quality Street III – 0/0/0 – 45.72 seconds
4th Leo Lorimer & Liu Jo VLS – 0/0/0 – 46.83 seconds
5th George Whitaker & Moonstern JX – 0/0/0 – 47.10 seconds
NB: Qualifications will be updated pending official grading of results.
Image: Georgina Ellis and Fireball X competing in the Senior Foxhunter Second Round at Arena UK on Sunday 21st July [CREDIT: British Showjumping]
The Horse of the Year Show 2019 will take place from the 2nd – 6th October at Birmingham's NEC. The British Showjumping National Championships 2019 will take place during the 6th – 11th August at the National Agricultural and Exhibition Centre (NAEC), Stoneleigh Park, Warwickshire.
Equitop Myoplast® is a unique amino acid supplement specifically designed to support lean muscle growth, helping horses to respond and cope with the demands of training and rehabilitation. The blend of amino acids in Equitop Myoplast supports lean muscle growth in older horses that lose condition easily, those in intensive training or competition as well as young and developing horses. This popular amino acid supplement is the leading equine supplement sold by veterinary surgeons in the UK(1). References – (1) GFK industry sales data MAT Jan 17. For more information please visit www.equitop-myoplast.co.uk.