Olivia Poole wins the Equitop Myoplast Senior Foxhunter Second Round at Arena UK
Monday 23 July 2018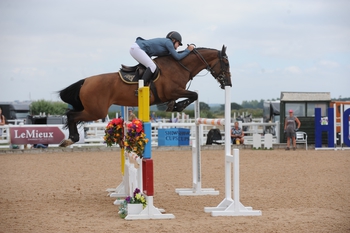 Olivia Poole bagged a much-coveted Horse of the Year Show place on Quality in the final Equitop Myoplast Senior Foxhunter Second Round of the 2018 season at Arena UK's popular second rounds show in Lincolnshire.
The sixty-five starters were whittled down to sixteen over course-designer Neil Foster's tracks. With the fences raised, the now substantial course was all about jumping as only two treble clears were produced for the two Horse of the Year Show places on offer.
Drawn second, Shrewsbury, Shropshire-based Olivia, 19, was unsure of the tactics to play in an early draw, but opted to give the oxer's room and stay tight to the verticals on Quality, an 8 year-old mare she has ridden for three years and is owned by Michelle Poole.
"It was one of the biggest tracks we've jumped, but she tried her heart out," said Olivia, who secured victory by an impressive 3.72 seconds
Alex Thompson used his final draw to maximum effect to claim the second Horse of the Year Show place on the Clarimo 8 year-old mare Classy Cat, owned by Liberty Bramwell.
The riders placed third to fifth go through to the Equitop Myoplast Foxhunter Masters at the British Showjumping National Championships and a last chance to qualify for HOYS.
Arena UK – Sunday 22nd July 2018
Equitop Myoplast Senior Foxhunter Second Round
1st Olivia Poole & Quality – 0/0/0 - 40.53 seconds
2nd Alex Thompson & Classy Cat – 0/0/0 - 44.25 seconds
3rd Tim Davies & Lionel Van De Markieslanden – 0/0/4 - 43.85 seconds
4th Claire Robertson & Esprit Dometa – 0/0/4 - 45.63 seconds
5th Danielle Ryder & Escape Z – 0/0/4 - 57.05 seconds
NB: Qualifications will be updated pending official grading of results.
The Horse of the Year Show 2018 will take place from the 3rd – 7th October at Birmingham's NEC. The British Showjumping National Championships 2018 will take place during the 7th – 12th August at the National Agricultural and Exhibition Centre (NAEC), Stoneleigh Park, Warwickshire.
Equitop Myoplast:
Equitop Myoplast® is a unique amino acid supplement specifically designed to support lean muscle growth, helping horses to respond and cope with the demands of training and rehabilitation. The blend of amino acids in Equitop Myoplast supports lean muscle growth in older horses that lose condition easily, those in intensive training or competition as well as young and developing horses. This popular amino acid supplement is the leading equine supplement sold by veterinary surgeons in the UK(1). References – (1) GFK industry sales data MAT Jan 17. For more information please visit www.equitop-myoplast.co.uk.