Paul Bevan is victorious in the Winter Grand Prix at SouthView Equestrian Centre
Monday 25 February 2019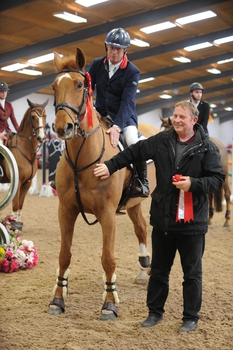 Paul Bevan from Lichfield, Staffordshire partnered his own Deangelo II, an 11 year-old Dutch-bred chestnut gelding whom Paul has competed since 2013, to the win in Sunday's Winter Grand Prix at SouthView Equestrian Centre, Cheshire.
Five of the initial twenty-seven starters produced a first round clear over course designer Gillian Milner's twelve fence-track but only Paul could pull a double clear out of the bag crossing the finish in 43.07 seconds.
Danielle Farnsworth from Kinoulton, Nottinghamshire and Louise Foster's 10 year-old Dutch-bred, Numero Uno sired mare, Eline IX were the quickest combination in the jump-off. They crossed the line in 41.09 second but lowered the second part of the double to finish in second place.
Harry Whall from Market Rasen, Lincolnshire was awarded third place with his own Eclips XIII, another Dutch-bred 10 year-old this time by Cardento. They crossed the finish line in 55.38 seconds which would have been good enough for second place had the final fence not fallen.
SouthView Equestrian Centre –Sunday 24th February 2019
Winter Grand Prix Results
1st Paul Bevan & Deangelo II – 0/0 – 43.07 seconds
2nd Danielle Farnsworth & Eline IX – 0/4 – 41.09 seconds
3rd Harry Whall & Eclips XIII – 0/4 – 55.38 seconds
Image: Paul Bevan & Deangelo winners of the Winter Grand Prix at SouthView Equestrian Centre with newly appointed British Showjumping Chairman and Owner/Founder of Charles Britton Equestrian Construction, Charles Britton (Credit: British Showjumping)