Results from the Dodson & Horrell National Amateur & Veteran Championships 2018
Monday 19 November 2018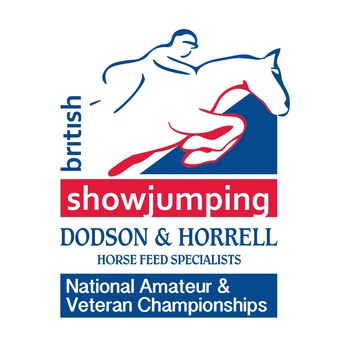 This year's Dodson & Horrell National Amateur & Veteran Championships proved to be as popular as ever and following six jam packed days of showjumping, the 2018 Champions have now been crowned. The Championships took place at Aintree Equestrian Centre during the 13th – 18th November and the results were as follows:
The National Amateur 0.85m Championship was taken by Katie Benbow from Tunstall, North Yorkshire and she was on board her own 12 year-old chestnut mare Ruby St Loise
Holly Gair from Chester-le-Street, County Durham headed the National Amateur 0.95m Championship on Bowes Milky Way, a 21 year-old grey mare owned by Wendy Gair
The winner of the National Amateur 1.05m Championship was Rachael Evison from Pontefract, North Yorkshire on her own 12 year-old grey mare Scylla D'Ouilly
Lucinda Stewart from Ayrshire scooped the National Amateur 1.10m Championship on her own 9 year-old dark bay gelding Cancun II
The Minor Veteran Riders Championship was won by Carol Gee from Kilkenny, Ireland and she rode her own 10 year-old bay gelding Fernhill Splash
Nina Emery from Cannock, Staffordshire became the Major Veteran Riders Champion with her own 12 year-old bay mare Galaxy III
For a full list of results and further information about the Dodson & Horrell National Amateur & Veteran Championships, please visit www.aintreeequestriancentre.co.uk. A full report with images will follow.
Dodson & Horrell:
Dodson & Horrell has been leading the way in equine nutrition for almost 80 years, pioneering manufacturing methods and promoting nutritional research. This year Dodson & Horrell has launched various new and improved ranges of horse feed, the Balancer Range and the Performance Range.
As official supplier of nutrition to Equestrian Team GBR since 2009 Dodson & Horrell works closely with the entire team to deliver nutritional advice to both the Performance and World Class Programmes.
In addition Dodson & Horrell supports a variety of top equestrian athletes who make up #teamdandh. The ambassadors play a vital role within the company by highlighting the quality of the feed and nutritional advice. Dodson & Horrell showjumping brand ambassadors are Geoff Billington, Jess Dimmock, Yazmin Pinchen, Lauren Hough, Joe Davison and many of the Whitaker family.
For further information, please visit www.dodsonandhorrell.com or call us on 01832 737300. For any further nutritional advice please call the Helpline on 0845 345 2627 or email enquiries@dodsonandhorrell.com.