William Fletcher takes the National Grade B Championship Final
Friday 10 August 2018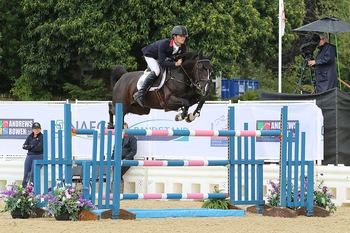 A rider who needs very little in the way of introduction, William Fletcher showed the crowd exactly how it is done aboard Tiger Bright in the National Grade B Championship, producing the only double clear of the class to take the win. William has had the ride of the 10 year old black mare owned by Diane Wilson since September last year, prior to that she'd been produced and competed by Alfie Bradstock.
Despite a heavy downpour and thunderstorms causing a 10 minute break to the class, William left no room for error as he took to the arena and cleared the jump-off leaving each fence in situ, stealing the win from Lauren Edwards who was riding Ella Sandra G owned by Andrew Doswell.
The Oxfordshire based showjumper is having a flying season having competed on the gold medal winning team at the FEI Young Rider European Championships this year with 12 year old Persimmon, who he is competing here this week. William also has Everytime Anywhere B entered into the Horse of the Year Show International Wild Card Qualifier which culminates on Sunday here at the British Showjumping National Championships 2018.
It is not only competitors who are guaranteed a fabulous day out, the British Showjumping National Championships also offers a great family day of exciting competition, hospitality and afternoon tea offerings and a retail shopping village. Entry for spectators wishing to take advantage of this fantastic show is free and parking is only £5 per car. For more information please go to http://www.bsnationalchampionships.com/ or call 02476 858205.
Image Credit: 1st Class Images