News
Liverpool International's Equitop Myoplast Puissance a Great Crowd Pleaser
Monday 22 October 2018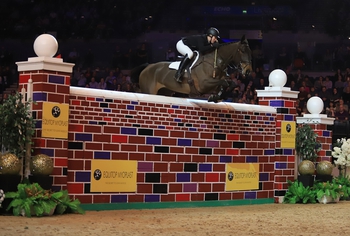 AROUND the world there's one class that is a sure-fire winner when it comes to pleasing the crowd – the ever famous Puissance.
In the electric atmosphere of the iconic Echo Arena, home to the Liverpool International Horse Show – December 28 to 31 - the Equitop Myoplast Puissance has proved time and time it keeps visitors gripped to the final round and brings out the fighting spirit amongst the leading names.
Last year proved a three-way split at the top with Chris Megahey, Holly Smith and Louise Saywell all sharing the spoils in what proved a thrilling Saturday night finale.
A capacity crowd at the Echo Arena revelled in a high-class competition that saw all three riders - Chris on Seapatrick Cruise Cavalier, Holly with Quality Old Joker and Louise on Dassler - clear a fifth round height of seven feet two inches.
Liz Barrett, equine business manager for Equitop Myoplast, said: "We are delighted to be supporting the puissance once again.
"Puissance is French for power, so this is a perfect fit for this brand as power and strength is exactly what Equitop Myoplast provides for equine athletes."
Said Show President Nina Barbour: "We are thrilled to be welcoming back top class sponsors such as Equitop Myoplast. The product is an integral part of many show jumper's success and it is great that they have chosen to support the 2018 event which is rapidly becoming a major event in the equestrian calendar."
Equitop Myoplast is a unique and 100% natural supplement for horses, which is packed with 18 key amino acids including 10 essential amino acids.
The product is used by top British riders including Olympic Gold Medallist and world number one show jumper, Scott Brash, who uses Equitop Myoplast to help ensure his horses receive optimal nutrition for muscle development and maintenance whilst also supporting recovery of muscle tissue after the stresses and strains of competition and travel.
Equitop Myoplast is recommended by veterinary surgeons and is the number one equine supplement sold by veterinary practices and pharmacies in the UK.
Make sure you book your tickets and enjoy an equestrian, fun-filled and glamorous New Year to remember at the Liverpool International Horse Show.
For more information and to book tickets visit www.liverpoolhorseshow.com