Monday, February 19, 2018
News
Lisa Jones from South Yorkshire wins The Champagne Cave Winter Grades B & C Qualifier at SouthView Equestrian Centre
Monday 19 February 2018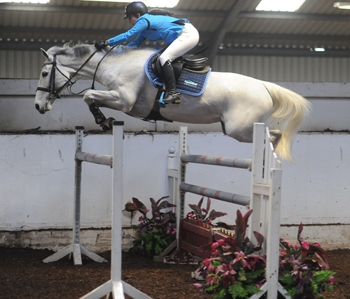 Thirty-two horse and rider combinations started out over Gillian Milner's track in The Champagne Cave Winter Grades B & C Qualifier at SouthView Equestrian Centre and ten went on to fight it out in the jump off.
With two tickets available for this year's Championship Final at the renowned Royal International Horse Show at Hickstead, West Sussex, competition proved to be fierce and those two qualifying spaces were taken by the two combinations able to produce a double clear.
On board her own 10 year-old grey mare Diana P, Lisa who is from Doncaster, South Yorkshire provided the fastest double clear of the class when she came through the finish in just 35.99 seconds. After having shown great consistency and speed, this time was to be enough to give the pair an advantage of 1.27 seconds.
Eve Staveley from Warrington, Cheshire secured the only other double clear with her own 11 year-old bay gelding Shadow IV. The pair laid down their round in 37.26 seconds.
SouthView Equestrian Centre – Saturday 17th February 2018
The Champagne Cave Winter Grades B & C Qualifier Results
1st Lisa Jones & Diana P - 0/0 – 35.99 seconds
2nd Eve Staveley & Shadow IV - 0/0 – 37.26 seconds
NB: Qualifications will be updated on the website pending official grading of results.
The Champagne Cave:
The Champagne Cave was set up in order to source the best vintages from small niche growers in France and is now predominantly supplied by small family run vineyards. The company regularly visits the Champagne region to check on the produce and witness the production process first hand. The Champagne Cave has handpicked some of the finest champagnes, many of which are not found for sale elsewhere in the UK. Their 'clos' wines are from one of the few remaining walled garden vineyards whilst their Grand Cru magnum champagnes are made by a grower who only produces 500-1000 magnums a year. Shop the selection via www.thechampagnecave.co.uk.