Monday, May 28, 2018
BRITISH SHOWJUMPING'S TEAM NAF SHOW FUTURE PROMISE FOR GB IN AL AIN
Thursday 16 February 2017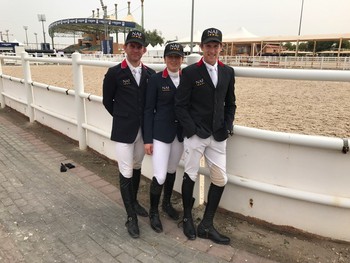 Today's CSIO5* Furusiyya FEI Nations Cup competition in Al Ain saw Great Britain field a three strong team competing under their sponsors title banner of Team NAF.
The competition, which took place at 10am BST and 13:30 hrs local time, saw nine nations take part made up of teams from Saudi Arabia, Qatar and the UAE for the Middle East in addition to France, Switzerland, Ireland, Germany and Italy alongside Great Britain from Europe.
First Round
The course which had been designed by Bernardo Costa Cabral, who was assisted by London 2012 course designer Bob Ellis, certainly asked a lot of questions. A slightly angled line to a double after the open water certainly caught many of the riders as did the final line into the combination where many hopes were also dashed.
The time allowed of 82 seconds certainly seemed generous enough however the related distances took their toll with the opening rider being eliminated followed by a number of combinations notching up penalties that ran into double figures. Fielding a team of three, Great Britain didn't have the luxury of a fourth drop score rider so it wasn't until the second round of riders that the Brits made their first appearance.
Joe Clayton from Nottinghamshire with the 10 year-old bay gelding Con Man JX, owned by Sarah Billington took the role of pathfinder. Making the course look easy they produced a brilliant round to return home clear on a zero penalty score – only the second clear of the competition at that point.
Nigel Coupe from Preston, Lancashire with the 14 year-old bay gelding Golvers Hill, owned by Susan Simmons looked set to mirror Joe's performance, however a touch of a top pole later on in the course saw 4 penalties incurred at a vertical before their returning home within the time allowed.
For Louise Saywell from Retford, Nottinghamshire with the 11 year-old bay gelding Cordalis 7, owned by James Hughes, it was a bit of a mixed bag. Making their debut as a combination at this level and with Louise only recently having taken over the ride, they looked incredibly promising as they started off however a stop in the combination saw them pick up 4 penalties. This break in their rhythm appeared to unsettle them slightly resulting in a further 8 penalties being picked up.
This saw Great Britain slide from the joint 1st position they had been sharing with France, Qatar and Italy into 8th place. However it was just enough to see them make the cut for inclusion in the second round with Saudi Arabia being the only nation not to come forward with their score of 24 penalties.
Second Round
The second round saw France continue to hold their lead with three of their team jumping clear. It wasn't until the final round that 2nd and 3rd place were decided and it was Qatar who ended up sitting behind the leaders when Italy's final rider Emilio Bicocchi finished on 8 penalties to take 3rd place.
For Great Britain, Joe Clayton and Con Man JX looked as promising as they did in the first round and it was just the lightest touch at an oxer that saw them pick up 4 penalties and not match their initial round clear. Nigel Coupe and Golvers Hill accrued 4 penalties at an early vertical when the top pole rolled in what was otherwise an superb performance.
Louise Saywell and Cordalis 7 looked like they had put the experience of their previous round behind them with their extremely settled and rhythmic performance early on in the course. However, coming back to the combination for the second time, Cordalis looked unsettled again hitting the first element and then stopping at the second. Re-presenting themselves they then picked up a further 4 penalties and a time fault to finish on 13 penalties and an overall finish score of 37 penalties for the Brits.
Di Lampard, world class performance manager for showjumping commented after the competition "All three riders rode really well. I can't fault them. Joe and Con Man delivered an absolute class first round and to say they were unfortunate in the second round is an understatement. Nigel and Golvers Hill look set to come back this year in a strong way and with it still being very early on in the season I feel extremely positive about them going forward. Their rounds were good and they were unlucky to pick up the 4 penalties in each round that they did.
"For Louise and Cordalis, I am really impressed with them when you consider this is such early days for them as a combination and a huge step up for Cordalis who is making his debut at this level. He would never have been in an arena like this before and the live stream screen at the side as you head into the combination seemed to knock him off his stride. This has been an enormous learning curve for him and with the potential he has shown today I am sure we will see him grow from it and become a strong horse for us in the future".
The Grand Prix takes place on Saturday 18th February at 14:30 hrs local time.
For further information on the show and full results once the show is underway, visit www.adcsio5.com. Full information in respect of the Furusiyya FEI Nations Cup series can be found by visiting www.fei.org.
FEI TV will be showing live footage from the event. To access this please visit www.feitv.org.
British Showjumping would like to thank NAF, title sponsors of the Senior Nations Cup Teams along with the Children, Junior and Young Rider teams.
NAF's premium range of Five Star brands include Superflex, Superflex Senior, PROFEET, Optimum, Magic, Oestress and Respirator Boost with quality at the heart of everything they do. They are a UFAS (Universal Feed Assurance Scheme), GMP+ (International Feed Assurance Scheme) and BETA NOPS (Naturally Occuring Prohibited Substances) accredited company and this enables them to guarantee full traceability on all the natural ingredients they utilise in their formulations, which are also selected in compliance with the FEI guidelines for Clean Sport. For further information, visit www.naf-equine.eu/uk/index.jsp.
The GBR showjumping teams are supported by the British Equestrian Federation's World Class Programme, funded by UK Sport through the National Lottery. The Programme focuses on identifying talent, developing potential and maximising medal-winning performances on the world stage.