Health & Fitness Guru Angie Best To Support British Showjumping
Monday 19 July 2010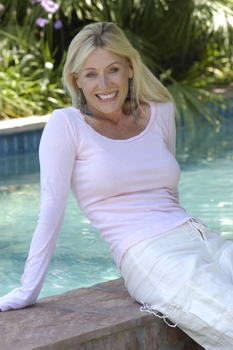 Top health and fitness guru Angie Best is demonstrating her support for British Showjumping by accepting an Ambassador role for the sport. "I have a deep love of horses, ride myself and am fully aware of the health and fitness benefits of doing so," says Angie, who also runs her own horse sanctuary.
After living in Los Angeles where she built a high-powered career helping stars such as Cher, Britt Ekland and Priscilla Presley create personal fitness regimes, Angie recently relocated to Henley-on-Thames and opened an innovative new fitness centre which incorporates the high standards of LA customer service and with a touch of laid-back California lifestyle.
As the former wife of football legend George Best, Angie has long been an advocate of women's independence. "I've always believed a woman should aspire to be an individual in her own right," she maintains. "A relationship in which someone chooses to be with you, rather than you choosing to be with them because they're a sporting star is a true relationship of equals."
It's partly this philosophy that attracts her to her new ambassador role. "Equestrianism is one of the very few, if not only, sports where men and women compete equally on the global stage" she explains. "To have women taking on men head-to-head for prize money in the tens of thousands is not only thrilling to watch but extremely empowering and I think many people miss the excitement of this.
"Recently, we had a Battle of the Sexes at Hickstead when Guy Williams and Tina Fletcher had to jump off for the lion's share of the £124,000 prize fund. The spectators were totally divided as to who they wanted to win. This, along with the power, speed and general majestic appeal of horse and rider competing together is what makes show jumping the superb and compelling sport it is and why I'm delighted to be able to show my support publicly as Ambassador".
Interest in Show Jumping is has risen dramatically in recent years with the sport enjoying extensive broadcast coverage and fans flocking to spectator events. And with prize money often exceeding £500,000 the stakes are higher than ever. Great Britain recently saw one of its most successful competition horses win in excess of £1million – a target that looks increasingly achievable for other horses during their careers.
"Angie is so enthusiastic both about our sport and helping us to reach a wider audience that it is an absolute pleasure to be welcoming her as an Ambassador," explains Maria Clayton of British Showjumping. "We feel extremely fortunate that she is supporting us in this way and we look forward to not only working alongside Angie but also, her joining us at key events through the year when many of Britain's leading riders are competing on the International stage".