Sunday, June 17, 2018
Junior rider Harry Charles wins Individual Silver in Slovakia
Sunday 13 August 2017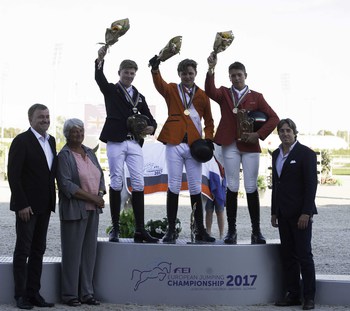 British Junior rider Harry Charles, aged 18 years from Alton in Hampshire, delivered the sixth medal for GB of the Children, Junior and Young Rider Championships in Samorin, Slovakia this afternoon.
Riding under the guidance of Chef d'Equipe Tony Newbery, Harry's target from the point of selection was to secure both a Team and Individual medal, something he never wavered from and it was great to see his plans come to fruition in the way that they did.
Riding his father Peter's 12 year-old chestnut gelding Vivaldi du Dom, Harry was the leading British Junior rider from the start when he posted a superb clear on Wednesday followed by two rounds on Friday which saw him pick up just the one time penalty and a Team Silver medal.
Coming forward to the Individual Final this afternoon, Harry sat in third place behind Rowen Van de Mheen (NED) in second who went on to claim Gold. Francesco Correddu (ITA) who had sat above both of them in pole position dropped down into 5th place when he picked up 8 penalties following two fences down in the first round. The Bronze went to Giacomo Casadei (ITA) who posted a clear in the second round having had a fence down in the first.
Harry, who has been enjoying considerable success on the senior international circuit, delivered two-foot perfect clears this afternoon which were enough to push up into the silver medal position. Producing one of only three double clears achieved in the final, Harry's performance displayed not only the depth of his talent but also his ability to deliver under pressure.
Riding under the sponsor banner of Team NAF, who sponsor all of British Showjumping's Children, Junior, Young Rider and senior Nations Cup teams, Harry's medal win brought to a close what has been a tremendously successful Championships for Great Britain. With all riders and Chef d'Equipe's Clare Whitaker and Tony Newbery now heading home, British Showjumping would like to congratulate all riders and wish them a safe journey and thank them for their tremendous performances which sees Great Britain bringing home a medal haul consisting of two Team Golds, one Team Silver, Two Individual Bronzes and an Individual Silver.
For further information on the show and full results, visit www.xbionicsphere.com/en/equestor.
British Showjumping would like to thank NAF, title sponsors of the Senior Nations Cup Teams along with the Children, Junior and Young Rider teams.
NAF's premium range of Five Star brands include Superflex, Superflex Senior, PROFEET, Optimum, Magic, Oestress and Respirator Boost with quality at the heart of everything they do. They are a UFAS (Universal Feed Assurance Scheme), GMP+ (International Feed Assurance Scheme) and BETA NOPS (Naturally Occuring Prohibited Substances) accredited company and this enables them to guarantee full traceability on all the natural ingredients they utilise in their formulations, which are also selected in compliance with the FEI guidelines for Clean Sport. For further information, visit www.naf-equine.eu/uk/index.jsp.