British Showjumping's Team NAF Juniors win FEI Jumping Nations Cup™ Final
Sunday 09 September 2018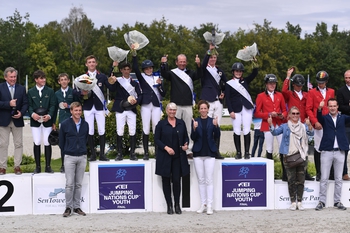 Today saw the quartet of British Junior riders win their respective FEI Jumping Nations Cup™ Youth Final at Sentower Park in Opglabbeek, Belgium. Competing under the title sponsor banner of NAF, the team ensured that the Union flag was aloft after producing some fantastic rounds of jumping.
Nations Cup Final
Jodie Hall Mcateer, aged 18, from Borehamwood, Hertfordshire was the team pathfinder today with Fantom, a 9 year-old British bred bay gelding owned by Mandy Hall. She was joined on the team by Matilda Lanni, aged 14, from Peterborough, Cambridgeshire with Newbridges Master Brown, a 12 year-old bay gelding owned by Stacey Webb; Oliver Tuff, aged 15, from Totnes, Devon with Darino B, a 10 year-old bay gelding owned by Justin Tuff and Jack Whitaker, aged 16, from Whatton, Nottinghamshire with Queen Elisabeth, a 9 year-old bay mare owned by Molly Orstrom and Michael Whitaker.
Ben Clark, aged 16, from Southampton, Hampshire with Valentino, a 16 year-old grey gelding owned by Kim Clark was also in action as part of the squad and contested the first competition on Friday before proceeding as an individual.
Across the two days of team competition, each rider proved to be pivotal, with many returning home with clears in at least one of the rounds. Oliver Tuff bagged the only double clear for the Brits on Darino B with Jodie, Matilda and Jack all adding a clear round each to the overall score.
Grand Prix
The highest placed Brit in the Junior Grand Prix was Jodie Hall Mcateer on Coquin de Coquerie Z. The pair produced a great jump off round to finish with a double clear in 40.57 seconds. The Grand Prix was won by home rider Alexander Housen on Esprit van de Wellington after he secured a double clear in 37.82 seconds. Second place went to Tom Schellekens (NED) on Camilly Z and they delivered their double clear in 40.54 seconds. Ben Clark and Valentino also found themselves inside the top ten with a double clear perfomance in 42.69 seconds.
Children
The Team NAF Children were also in action today and they finished fifth in their Final. The team of four consisted of Megan Li, aged 14, from Chalfont St. Giles, Buckinghamshire with Eclips Van Erpekom, a 14 year-old black gelding owned by Alex Li; Iwan Carpenter, aged 14, from Holywell, Clwyd with Merllyns Chocca Nova, a 7 year-old bay stallion owned by Amanda Carpenter; Isabel Saywell, aged 14, from Newark, Nottinghamshire with Upperclass II, a 17 year-old brown gelding owned by Elisabeth Whitaker and Atiya Bussey, aged 13, from Norwich, Norfolk with Chesterfield Z, a 12 year-old grey gelding owned by Louise Bussey. Representing Great Britain as an individual was Charlotte Bowman, aged 13, from Swansea, West Glamorgan with Elido Esprit, a 9 year-old black mare owned by Mandy Bowman.
Atiya and Chesterfield Z were the highest placed British combination in the Children's Grand Prix, finishing in 7th with a double clear in 36.43 seconds.
For further information on the show and full results, visit https://www.sentowerpark.com.
British Showjumping would like to thank NAF, title sponsors of the Senior Nations Cup Teams along with the Children, Junior, Young Rider and Veteran teams.
NAF's premium range of Five Star brands include Superflex, Superflex Senior, PROFEET, Optimum, Magic, Oestress and Respirator Boost with quality at the heart of everything they do. They are a UFAS (Universal Feed Assurance Scheme), GMP+ (International Feed Assurance Scheme) and BETA NOPS (Naturally Occuring Prohibited Substances) accredited company and this enables them to guarantee full traceability on all the natural ingredients they utilise in their formulations, which are also selected in compliance with the FEI guidelines for Clean Sport. For further information, visit www.naf-equine.eu/uk/index.jsp.
The GBR showjumping teams are supported by the British Equestrian Federation's World Class Programme, funded by UK Sport through the National Lottery. The Programme focuses on identifying talent, developing potential and maximising medal-winning performances on the world stage.
Image Credit: Pegasus Photo Creations.