Connie Mensley wins the Pony Silver League 128cm Final
Wednesday 08 August 2018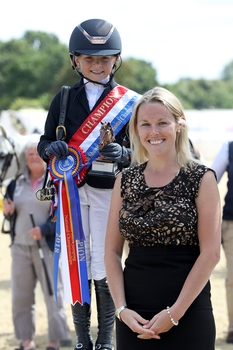 Connie Mensley and William Stewart went head to head in the jump off of the Pony Silver league 128cm Final being the only two clears out of 16 starters. Connie and her tri-coloured Gemstone Sienna did a lovely clear at 44.01, putting pressure on William. With his 14 year old grey gelding, William raced to the finish six seconds quicker but a fence down gave the win to Connie.
Connie just celebrated her ninth birthday last week and has only recently moved up to 1.00m tracks with Gemstone Sienna who she has owned for two and half years.
"She used to be a bit naughty but now I am older and stronger, we get along much better. I have another mare called Madonna who can be very naughty as well but I qualified for HOYS with her at the Scottish Pony Premier."
The family have an equestrian centre in Leicestershire and Connie trains with Tania and Mark Kyle whose daughter, Tabitha Kyle, won the National 128cm Championship yesterday.
It was a repeat scenario for Connie and William who were again the only two clears when they competed against each other in the HOYS 128cm qualifier at the Scottish Pony Premier and Home Pony in July. They ended up sharing the top spot and Connie also won the 10 years & under qualifier.
William has owned Billibob for two years and it's their second trip to the Championship for the combination. William has already qualified both Billibob and his other pony Soxs Pocket Rocket for the HOYS 128cm Championship.
For further information on the British Showjumping National Championships 2018 visit www.bsnationalchampionshps.com
NOTE: Please credit all images to: 1st Class Images https://www.1stclassimages.com/