Holly Cooper takes the Pony Foxhunter Championship title
Saturday 06 October 2018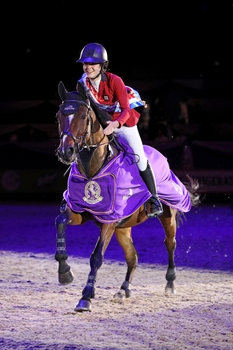 Holly Cooper added her name to the Horse of the Year Show roll of honour by winning the Pony Foxhunter Championship on Saturday afternoon at Horse of the Year Show in Birmingham. The 15-year-old, from Northamptonshire, did it in style on Valentino Supreme, a nine-year-old bay gelding that Holly has only been riding for less than a year.
Nine combinations from 31 starters made it through to the jump-off as many of Britain's top pony showjumpers relished appearing in front of a big Saturday afternoon crowd in the Andrews Bowen International Arena.
Holly put in a superb jump-off round which saw them clock a time of 32.10 seconds to finish well clear of the field. Tatiane Mauree, riding Horseabout Zibu, took second place, with Courtney Young riding Neil 55 finishing third. It meant that she joined an illustrious list of former winners, which includes riders like William Whitaker, Louise Pavitt and Matt Sampson.
"It was so nerve-racking," Holly said. "But I am really happy with him. In the newcomers earlier this week, I took a couple of strides out and had a couple of poles down, so I wasn't going to take the stride out to the last today, but I just knew he could do it and we went for it. I was really nervous so I was just happy I got a clear round to be honest. There were quite a few good people to go after me in the jump-off, so I was obviously wary that my time might have been beaten.
"He is an incredible pony. He's quite young, so I am a little surprised with what he has done, but I have been riding him for just under a year and I knew he was capable, definitely."
Link to audio interview with Holly Cooper.
Photo Credit: 1st Class Images