Michaela Webb triumphs in the SEIB Winter Novice Championship at Hickstead's BHS Royal International Horse Show
Wednesday 25 July 2018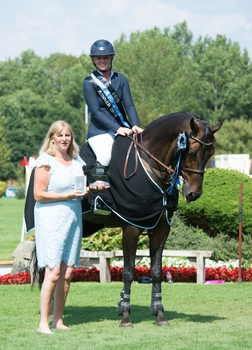 Michaela Webb from Holcot, Northamptonshire, has won the SEIB Winter Novice Championship at Hickstead's BHS Royal International Horse Show on Wednesday 25 July.
There were six double clears in the 1m25 class, but Michaela's horse Stellar Skylight – a nine-year-old owned by Nicola Savage – was fresh despite the heat, and was the only horse to jump-off in under 45 seconds to take the win.
Michaela said; "Going into the jump-off I knew it was going to be a fast one as Emma Slater is always quick, so I just went for it. Skylight might not be the fastest but he is very brave. He's actually been jumping Grand Prix level as I qualified him at Crofton a while ago, so this was a step down for him.
"I haven't jumped in the International arena since 2010 and the first time I jumped at Hickstead I fell off, so this is definitely an improvement!"
Michaela rides for and trains with Tim Stockdale, whose advice was 'don't go to Blackpool and back in the jump-off!'
The Longines FEI Jumping Nations Cup™ of Great Britain at the BHS Royal International Horse Show (25-29 July) is one of the oldest equestrian events in the world, as well as one of the biggest outdoor horse shows in the country.
It offers everything from the skill and power of international showjumpers clearing vast fences, the precision of top class show horses and ponies putting in foot-perfect performances, and the speed and exhilaration of the scurry drivers and event riders galloping around Hickstead's famous International Arena.
Showjumping highlights include the Longines FEI Jumping Nations Cup™ of Great Britain, the Longines BHS King George V Gold Cup, the BHS Queen Elizabeth II Cup and the MS Amlin Eventers' Challenge. These historic classes attract the very best riders in the world, and there's no better place than Hickstead for getting up close to these equestrian superstars.
Image Credit: LewisHarding Photography
SEIB:
SEIB Insurance Brokers formerly known as South Essex Insurance Brokers are in the top 75 brokers in the country and have been in business for over 50 years. SEIB Insurance Brokers specialise in niche markets and equestrian insurance is a large part of the business. Communication is an important key to the company's success and the ability to talk to people, explain policies and help with problems is regarded as its greatest asset and is the reason they have won many industry awards for customer care. SEIB Insurance Brokers have competitive rates for horse, horsebox, trailer, homes with stables, liability and anything else equestrian. Call for a quote on 01708 850000 or please visit www.seib.co.uk.