British Showjumping President & Vice President appointments announced
Tuesday 11 December 2018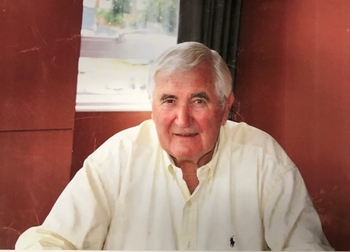 It is with pleasure that British Showjumping are in a position to announce that Michael Bates has accepted the position of President for the association as of the 1st January 2019.
Michael, who has had a lifelong involvement with the sport, takes over the helm from David Broome CBE who has held the post for the past two terms. Michael's deep understanding and passion for the sport saw him appointed as Vice President in the year 2000, a post he has held consistently since, following his time as Chairman between 1991 -1992 and as a Steward between 2001 – 2004.
As an owner, Michael has enjoyed considerable success on the national and international stage with many of his horses either having been home bred or produced from a young age under his skilful direction. Father of Zoe, a former international showjumping rider and grandfather of Lulu who also showjumps at international level, Michael's commitment to the sport is second-to-none and he is a regular face at most of the key events at home and abroad where he takes considerable pleasure in watching his many horses progress in their sporting careers.
Michael has given considerable time to the sport over the past three decades which have included him holding the post of both Chairman and Vice President for British Showjumping and President for the British Equestrian Federation as well as serving as a Steward. On an international level Michael is a former Non-Executive Board Director of the FEI as well as being a former member of the FEI Bureau, the FEI Strategic Planning Committee and the FEI Audit Panel.
Clare Whitaker, has been appointed as Vice President from the 1st January 2019 replacing the position vacated by Michael Bates. Clare, who has been an international owner of many top level and championship horses over the years, is also wife to world renowned rider John Whitaker and mother of international riders Robert, Louise and Joanne.
Clare has been involved in showjumping her entire life, initially as a competitive rider before turning her focus, upon having her family, on the support and coaching side of the sport. A focus which saw Clare sit on the sports Executive Committee from 2000 until the sport was restructured in 2012 as well as taking on the position of Vice Chairman during 2003 – 2004. Clare has also sat on numerous committees including the Rules, Finance, Breeding and Training Committee since 2001 as well as the International Performance Committee on which she still sits.
With a strong belief in the need for identifying youth talent and giving the sports younger riders an opportunity to grow and maximise their talent, Clare also holds the post of Youth Team manager. Overseeing the youth team Clare has been involved with the sports youngest talented riders at the highest level for more than almost three decades during which time the youth teams have delivered multiple medal hauls for Great Britain at their respective European Championships.
Michael Bates, on his appointment as President said "I am absolutely honoured to be taking the position of President for British Showjumping. I have held many positions across the sports national and international bodies and to be invited to take the role of President for the national governing body of the sport that has given me nothing but pleasure throughout my entire life is an absolute privilege.
"I am also delighted to see Clare Whitaker, who alongside her husband John and their entire family have done so much or the showjumping. Clare is an incredible asset to the sport and it is fantastic to see this acknowledged with her appointment as the Vice President."
Iain Graham, Chief Executive for British Showjumping commented "We were all extremely pleased when Michael accepted the position of President. His commitment to the sport is equally matched by his in-depth knowledge of it and we feel very fortunate in his acceptance of the role.
"We are similarly pleased that Clare has accepted the position of Vice Chairman. Her tireless support of the sport and those that work in it, along with her deep understanding of both our members national and international needs make Clare a highly valued member of the team and we couldn't have been happier when she accepted the role.
"I would also like to take the opportunity to thank David Broome for the two consecutive three year terms that he has held as President as well as his previous time in the role of Chairman. Both roles are voluntary ones and I really am unable to thank him enough for the time and support he has given both the Board and the sport as a whole".