BRITISH SHOWJUMPING ANNOUNCES AWARD-WINNING ITV NEWS BROADCASTER ALASTAIR STEWART AS NEW AMBASSADOR FOR THE SPORT
Monday 03 October 2011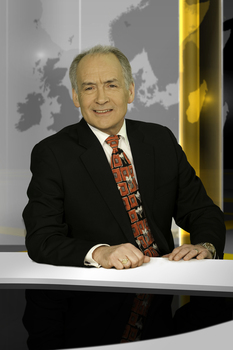 "It's a total joy. Show jumping is a unique combination of
skill, beauty and power."
Alastair Stewart, OBE, the ITV News broadcaster, has become the latest ambassador of the sport in which he has a keen personal interest. A committed supporter of show jumping, with three of four children actively involved in the sport at various levels, he is volunteering his effort to help raise the profile of British Showjumping as the 2012 Olympics approach.
"My love of horses began when I was at boarding school in Kent. I'd ride a magnificent huge black hunter at weekends on the Isle of Thanet, doubly attractive because the pupils from the girls schools rode there as well. Actually, I courted my wife, Sally, on horseback when we both worked for Southern TV. We'd rent a couple of horses from the local livery stable and go riding in the New Forest." The fascination with horses proved to be genetic. Daughter Clemmie, a school teacher, enjoyed hunting and show jumping before currently settling on dressage. Son Freddie, 18, is currently a pupil with Olympian showjumper, Tony Newbery; and youngest son, Oscar, 13, is thriving at junior level.
"What I love about the sport is the unique unleashing of skill and force. It's hugely competitive and yet underlying it all is a tremendous camaraderie. It's artistic and colourful, a great combination of elegance and physical power. And, far from being a elite sport only, it' one of the few sporting arenas where you rub shoulders with the wives of Russian oligarchs one minute and the local farmers the next. This sport, at any level, is a joy.
"Age is irrelevant. You can be over 50 and still win an Olympic medal, or you can be 5 and have the time of your life. It's one of the very few arenas in life where men and women compete on a level footing. I think that's very important, not least for putting silly sexism in its place. Plus, the British Showjumping Academy scheme is brilliant - young ones, with real potential, get top-class training, compete as teams and meets all sorts of other children from different parts of the country and different walks of life. It boosts the sport and it does them, as people, great good."
"I think the sport has been the victim of a self-fulfilling prophecy in the past. Little network TV coverage, so less popularity. Less popularity, so little network TV coverage. I think that's wrong. The characters, horses and locations are so fantastic, they deserve another go."
Alastair Stewart presents a range of news and current affairs programmes on the ITV network, including ITV Lunchtime News, ITV Evening News and ITV News at 10. He has presented many of ITN's special programmes including the State Openings of Parliament, numerous by-elections, State Visits and for the Royal Weddings, of the Duke and Duchess of Cambridge, Prince Charles and Princess Diana and Duke and Duchess of York. In 2002, he won "THE FACE OF LONDON" award from THE ROYAL TELEVISION SOCIETY and, in 2005, was the THE ROYAL TELEVISION SOCIETY'S "PRESENTER OF THE YEAR". More recently at the ITV News Group Awards, Alastair won the Judges' Award for his masterful presentation of The First Election Debate in 2010.