Phil Vickery becomes an Ambassador for British Show Jumping
Friday 21 August 2009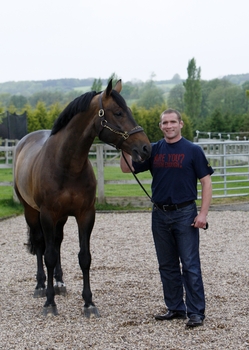 England & Lions International Rugby Star and former England Captain Phil Vickery MBE has joined British Show Jumping as an Ambassador for the sport.
Growing up in Cornwall as the son of a Dairy Farmer Phil has always enjoyed rural pursuits and an outdoor lifestyle. It was this, along with a visit to the British Open earlier this year, that reawakened his enthusiasm for Show Jumping. "I grew up riding regularly but Rugby took over. Now I'm in a position where can spend time with horses again and I'm thoroughly looking forward to supporting Great Britain in their medal winning campaign. Unless people have experienced Show Jumping for themselves they don't realise the excitement and adrenalin rush that accompanies it. I was on the edge of my seat at the British Open. The sheer size of the fences, the power of the horses and the competitiveness of the riders is something that will appeal to people of all ages and interests. Show Jumping really is a great sport and I couldn't be happier to be accepting this role within it" said Phil.
"We are honoured to have Phil working with us. To have such a sporting icon serving as an ambassador for British Show Jumping will be an inspiration to both riders and supporters and we look forward to our future partnership." commented Maria Clayton, British Show Jumping.
Adding further to his support for British Team success, both he and wife Kate via their aptly named Raging Bull clothing company are enjoying the sport as co-owners alongside Sharon Baldwin of the impressive stallion Vangelis-S which now competes under the Raging Bull prefix. Produced and ridden by Robert Smith, the combination have recently been announced as members of the British squad preparing for the European Show Jumping championships which takes place at Windsor Castle between the 29th – 30th August.