Tuesday, July 25, 2017
News
Helen Mitchell scoops the KBIS Insurance Senior British Novice Second Round win at Beacons Equestrian Centre
Monday 24 July 2017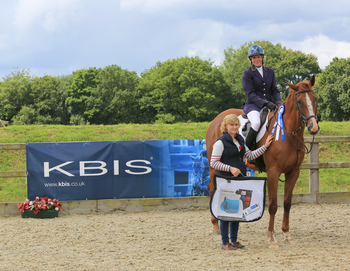 The final KBIS Senior British Novice Second Round of the season took place at Beacons Equestrian Centre in Carmarthenshire and it was Helen Mitchell who scooped a first place finish after producing three clear rounds.
With this being the last opportunity to qualify for the KBIS Insurance Senior British Novice Championship Final which is to be held at the British Showjumping National Championships in August, the stakes were high and this lead to three competitive rounds of showjumping. With poles falling across the first two rounds, just six combinations were left to tackle the jump off.
Making the journey from Wellington, Somerset, Helen Mitchell rode to a first place finish on board Billy Spirit, a 7 year-old chestnut mare owned by Marysia Orzazewska. This pair proved to be consistent performers as they posted two clear rounds for a place in the final jump off, where they went on to leave all the fences standing in an unbeatable time of 51.63 seconds.
Taking second place was Millicent Cornock from Cheltenham, Gloucestershire riding her own 5 year-old bay mare, Calcourt Qualvados. This combination put forward a strong challenge to stop the clock on a treble clear in 51.94 seconds.
Pandora Bailey from Hungerford, Berkshire finished in third place with her own 6 year-old chestnut mare, Whispering Angel. This partnership crossed the finish line on a treble clear in 52.23 seconds.
With one further rider also achieving a treble clear, four combinations will now go forward to the KBIS Insurance Senior British Novice Championship Final.
Beacons Equestrian Centre – Saturday 22nd July 2017
KBIS Insurance Senior British Novice Second Round
1st Helen Mitchell & Billy Spirit – 0/0/0 – 51.63 seconds
2nd Millicent Cornock & Calcourt Qualvados – 0/0/0 – 51.94 seconds
3rd Pandora Bailey & Whispering Angel -0/0/0 – 52.23 seconds
4th Helen Mitchell & Castleview Murphy – 0/0/0 – 52.88 seconds
NB: Qualifications will be updated pending grading of results.
The British Showjumping National Championships 2017 will be hosted at the National Agricultural and Exhibition Centre (NAEC), Stoneleigh Park, Warwickshire during the 8th - 13th August.
KBIS British Equestrian Insurance:
KBIS British Equestrian Insurance is the UK's leading independent horse insurance specialists, With over twenty years of experience KBIS offer a range of policies for the leisure horse to high value sports horses with a range of veterinary cover options. KBIS's product range includes horsebox and trailer insurance, property insurance, event and show insurance, standalone personal accident cover as well as a specialist liability department offer cover for private individuals, businesses and events and shows. For further information, visit www.kbis.co.uk.