7 Year-old Twins Daisy & Isabelle Deliver a Double Win
Friday 08 February 2019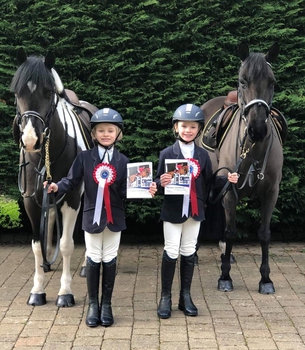 New members Daisy and Isabelle James-Wright, aged 7 and identical twins from Cowbridge, Vale of Glamorgan made their two-hour long trip to Gracelands Equestrian Centre in Worcestershire a successful one when they shared the honours in the Stepping Stones 128cm/138cm Handicap.
Taking part in only their second affiliated competition, Daisy rode the 14 year-old skewbald gelding Whiskey Joe, previously ridden by Jack Whitaker. While sister Isabelle rode Back in the Black, a 10 year-old black mare imported from Ireland whom she has already tasted victory on once before.
Daisy and Isabelle are two of the youngest members of British Showjumping and with the help of their mother Katherine who has competed up to 1.30m herself. They now have their sights firmly set on qualifying for the British Showjumping National Championships held at Stoneleigh Park in Warwickshire between 6 – 11 August 2019.