BRITISH SHOWJUMPING ANNOUNCES COMEDIENNE, WRITER AND ACTRESS JENNIFER SAUNDERS AS A NEW AMBASSADOR FOR THE SPORT
Friday 16 December 2011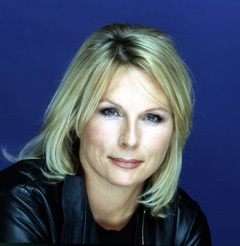 Jennifer Saunders, one of Britain's best-loved actresses and writers, has become the latest ambassador for British Showjumping as the sport enjoys annual showpiece at Olympia. A huge fan of the sport since childhood days when she rode horses/competed herself, she will be joining her friend, Mamma Mia producer, Judy Craymer, in lending her much-appreciated support to horses and riders as they gear up for the London Olympics.
Jennifer's affection for the sport began at a young age when she was competing in the sport herself. In the event, she was deflected by the theatrical world before she had the chance to fully develop as a would-be Olympian.
"I did compete at a lowly level. Gymkhanas and small shows. I was happy to get over the first jump, anything after that was a bonus.
"I was hooked on showjumping as it was covered widely on television and was hugely entertaining and the riders were household names and the horses were personalities too.
"I feel that part of my role is to reintroduce the public to the fun of the sport and make them familiar with the characters."
Jennifer, who has been working on new episodes of Absolutely Fabulous this autumn, has won two BAFTAs, an International Emmy Award, a British Comedy Award, a Rose d'Or Light Entertainment Festival Award, two Writers' Guild of Great Britain Awards, and a Peoples Choice Award in the United States. Her recent projects include the writing of the new Spice Girls' musical - Viva Forever! - produced by her friend and fellow ambassador, Judy Craymer.
For more information please call: British Showjumping Press Office on 02476 698806 or Sue Mott on 07836 283566