Christina Richardson-Kenyon secures the Nupafeed Supplements Senior Discovery Second Round at Dean Valley Farm
Tuesday 12 June 2018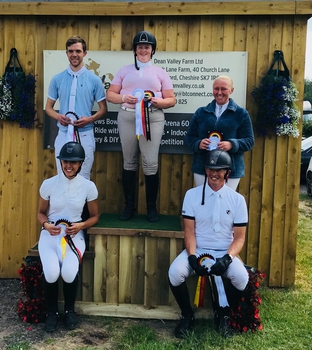 On a fine Sunday morning at Dean Valley Farm in Stockport, Cheshire, riders gathered to take part in the Nupafeed Supplements Senior Discovery Second Round and it was Christina Richardson-Kenyon who jumped three clear rounds to secure first place.
Each of the forty-two combinations began the class with high hopes of claiming a treble clear as this would see them take a place in the Nupafeed Supplements Senior Discovery Championship Final, which will be held during the British Showjumping National Championships in August.
After two nail biting rounds of showjumping, the initial starting field was reduced down as just fifteen competitors produced a double clear for a place in the final jump off. Five were able to secure a treble clear.
Christina from Poulton-Le-Fylde, Lancashire jumped three accurate rounds on board FVS Stakkato Costa Million, a 5 year-old rose grey gelding owned by Flight View Livery and Stud. Taking their place in the jump off with two well thought out clear rounds, this combination really picked up the pace to finish top of the leader board in 40.34 seconds.
With another four combinations also achieving a treble clear, a total of five combinations now go forward to the Nupafeed Supplements Senior Discovery Championship Final.
Dean Valley Farm – Sunday 10th June 2018
Nupafeed Supplements Senior Discovery Second Round
1st Christina Richardson-Kenyon & FVS Stakkato Costa Million – 0/0/0 – 40.34 seconds
2nd Joseph Hughes-Jones & Hocus Pocus – 0/0/0 – 41.37 seconds
3rd Claire Sheperd & Priestown Rocco – 0/0/0 – 43.66 seconds
4th Rachel Lees & Candle Line – 0/0/0 – 46.61 seconds
5th Anthony French & No Fear Van Jockhoeve – 0/0/0 – 51.51 seconds
NB: Qualifications will be updated pending official grading of results.
The British Showjumping National Championships 2018 will take place during the 7th – 12th August at the National Agricultural and Exhibition Centre (NAEC), Stoneleigh Park, Warwickshire.
Nupafeed Supplements
Imported from Germany, Nupafeed supplements combine advanced scientific research with the highest quality ingredients to make their products truly unique. The Nupafeed range includes: the highly acclaimed MAH® Liquid and Syringes to calm and reduce stress, Flex GLM (Green Lipped Mussel) joint supplement and Staying Power to aid energy, strength and stamina. Used by top professionals, including John Whitaker and Philip Miller, Nupafeed products are permitted for competition and are available by mail order. Nupafeed aims are to ensure an unbeatable quality of product, supplied with friendly and honest advice. The team have experience in conversing with customers who represent all levels of horse ownership, in every discipline. For more information, visit www.nupafeed.co.uk.