Katie Vaughan claims top spot in the KBIS Insurance Senior British Novice Second Round at Felbridge Showjumping Club
Wednesday 16 May 2018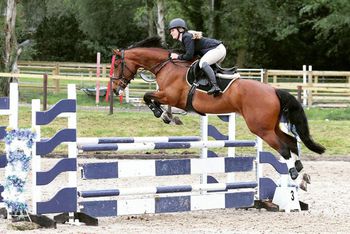 This week's KBIS Insurance Senior British Novice Second Round took place at Felbridge Showjumping Club and it was Katie Vaughan who claimed top spot with a speedy treble clear.
All sixty-seven competitors gathered with the aim of securing a place in the KBIS Insurance Senior British Novice Championship Final which is to be held at the British Showjumping National Championships in August. All starters were looking to achieve a sought after treble clear as this would secure their qualification place.
Katie from Lewes, East Sussex proved to be on winning form riding her 8 year-old bay mare Finessa KM. This partnership delivered two clean rounds for their place in the jump-off where they combined accuracy with speed to finish in 39.53 seconds with a treble clear.
With another nine combinations also achieving a treble clear, a total of ten combinations now go forward to the KBIS Insurance Senior British Novice Second Rounds Final.
Felbridge Showjumping Centre – Saturday 12th May 2018
KBIS Insurance Senior British Novice Second Round
1st Katie Vaughan & Finessa K M – 0/0/0 – 39.53 seconds
2nd Karl Standing & Diamond Slave – 0/0/0 – 40.81 seconds
3rd Lorraine Lock & Artisan I – 0/0/0 – 43.03 seconds
4th Emma-Jo Slater & Stand Up -0/0/0 – 44.06 seconds
5th Nicholas Edwards & Idodinus PP - 0/0/0 – 44.94 seconds
6th Katie Coomes & Romanos Legacy – 45.33 seconds
7th Lorraine Lock & Ibiza – 0/0/0 – 45.88 seconds
8th Charlotte Whittall & Johnny Splash – 0/0/0 – 45.91 seconds
9th Emma-Jo Slater & Bon Amego – 0/0/0 – 46.03 seconds
10th Gemma Birch & Gerton - 0/0/0 – 46.25 seconds
NB: Qualifications will be updated pending grading of results.
The British Showjumping National Championships 2018 will be hosted at the National Agricultural and Exhibition Centre (NAEC), Stoneleigh Park, Warwickshire during the 7th - 12th August.
KBIS British Equestrian Insurance:
KBIS British Equestrian Insurance is the UK's leading independent horse insurance specialists, With over twenty years of experience KBIS offer a range of policies for the leisure horse to high value sports horses with a range of veterinary cover options. KBIS's product range includes horsebox and trailer insurance, property insurance, event and show insurance, standalone personal accident cover as well as a specialist liability department offer cover for private individuals, businesses and events and shows. For further information, visit www.kbis.co.uk.