Monday, May 28, 2018
Live Streaming from the Bury Farm Equestrian Village Small Pony Premier Show
Friday 17 February 2017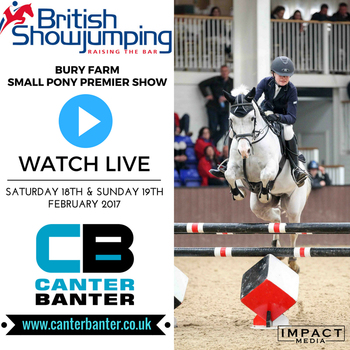 Catch all of the action from the Bury Farm Equestrian Village Small Pony Premier Show this weekend live on www.canterbanter.co.uk. The show gets underway at 9.00am tomorrow (Saturday 18th February) and the live stream will run all the way through to the last class on Sunday 19th February.
Viewers will get the opportunity to watch a number of national pony showjumping classes across the two days of competition and it's absolutely free to watch. Saturday sees us get started with the British Showjumping 11 Years & Under Qualifier and over the course of the two days, there are a number of qualifiers taking place, including the Winter 128cm and Winter 138cm Second Rounds. For the full schedule, just click here.
Full streaming schedules will be made available for each day and getting access to the live stream is easy, simply head to www.canterbanter.co.uk. Stay tuned to our Facebook and Twitter pages too for the latest updates.
The live streamed classes will also be available to watch again via our YouTube channel.