Courtney Young takes the spoils in the Pony Silver League 148cm & Under Final
Thursday 09 August 2018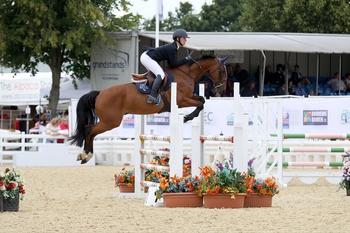 There were 12 riders out of 30 starters who found the key to the first round of the Pony Silver League 148cm & Under Final at NAEC Stoneleigh for the British Showjumping National Championships 2018. Going fourth in the jump off, Charley Hamilton and Castlebaldwin Golden Arrow set a fast clear in 44.53 seconds, forcing the following riders to take risks but many paid the price of a fallen fence. But in the end, it was Courtney Young and her six year old Neil 55 who rose to the challenge and stopped the clock at 43.44 seconds. "I've only had Neil since just before Christmas. He was bred by the Platt family and had basically no mileage so I started him off slowly and he has turned out to be very bold and just loves his job. I can't thank Nicole Rogers enough for buying him for me!"
Courtney has already qualified Neil for Horse of the Year Show in the Pony Foxhunter Championship and picked up another HOYS qualification yesterday after taking fifth place in the Blue Chip Pony Newcomers Masters with Bacardi III. "I'm really excited for HOYS, it's a great show and the atmosphere is amazing. I've actually got three ponies qualified in the Blue Chip Pony Newcomers Championship as well as Neil 55 and Zucan V in the Pony Foxhunter Championship."
Courtney is based in Wickford, Essex and is accompanied at the Championship by her multi-tasking mum. "Mum is both my trainer and groom, she is amazing and I wouldn't be doing all of this if it wasn't for her. When I was little, I always wanted to get on the horse she was riding! I started doing gymkhanas and showing but was constantly begging my mum to let me do showjumping."
Being 16 years old, it is Courtney's last year competing on ponies so her mum and her are hoping to do a few shows abroad before the year is out and then focus on finding a horse for Courtney to start competing with next season with the dream of working her way up the levels in this sport which she absolutely loves.
The Bronze and Silver Pony/Rider Combination League was introduced by British Showjumping in 2014 and allows all pony riders to be able to track their progress on a regional and national league table. There are three leagues; Bronze, Silver and Gold and they are split into three height categories of 128cm, 138cm and 148cm.
It is not only competitors who are guaranteed a fabulous day out, the British Showjumping National Championships also offers a great family day of exciting competition, hospitality and afternoon tea offerings and a retail shopping village. Entry for spectators wishing to take advantage of this fantastic show is free and parking is only £5 per car. For more information please go to http://www.bsnationalchampionships.com/ or call 02476 858205.
Image Credit: 1st Class Images