Ronnie Lee Jones takes the Connolly's RED MILLS Senior Newcomers Second Round at Bicton Arena
Wednesday 29 May 2019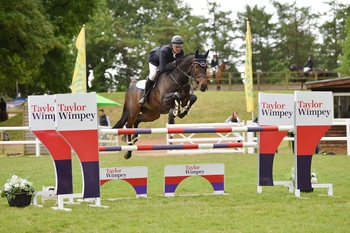 The Connolly's RED MILLS Senior Newcomers Second Rounds took place at Bicton Arena's Summer Spectacular Show on Sunday and it was Ronnie Lee Jones who clinched the win.
With only two qualifying tickets up for grabs for the Connolly's RED MILLS Senior Newcomers Championship Final, which will be held during Horse of the Year Show in October, all combinations were aiming to cross the finish line with a treble clear. From an initial starting field of seventy-eight, only four combinations went on to produce a treble clear which meant that the allocation of the qualification places came down to the clock.
Ronnie Lee Jones from Dunmow in Essex steered Ruth Dowie's Interstar B, a 6 year-old Dutch bred gelding by I'm Special De Muze, into the top spot after producing an immaculate treble clear in 40.67 seconds. Nicole Pavitt couldn't quite reach the Ronnie's time aboard Matt Pike's Southend, winners of the Senior Foxhunter Second Round on the previous day, but they claimed the second ticket on offer.
Josh Hutchins claimed third place with the Billy Stud's Billy Alpen; fourth place and the final treble clear went to Alice Watson and her own Cloud No.9 whilst fifth place was awarded to Hayley Webster and Caroline Ross' Cassilanda H Z.
The top two combinations secured their place in the Connolly's RED MILLS Senior Newcomers Championship Final at Horse of the Year Show and the top five took home the chance to compete in the Connolly's RED MILLS Senior Newcomers Masters at the British Showjumping National Championships.
Wales and West Showground – Sunday 19th May 2019
Connolly's RED MILLS Senior Newcomers Second Round
1st Ronnie Lee Jones & Interstar B – 0/0/0 – 40.67 seconds
2nd Nicole Pavitt & Southend – 0/0/0 – 40.91 seconds
3rd Josh Hutchins & Billy Alpen – 0/0/0 – 42.72 seconds
4th Alice Watson & Cloud No.9 – 0/0/0 – 47.69 seconds
5th Hayley Webster & Cassilandra H Z – 0/0/4 – 42.11 seconds
NB: Qualifications will be updated pending grading of results.
Image: Ronnie Lee Jones & Interstar B at Bicton Summer Spectacular Show (Credit: ESP Photographic)
The Horse of the Year Show 2019 will take place from the 2nd – 6th October at Birmingham's NEC. The British Showjumping National Championships 2019 will take place during the 6th – 11th August at the National Agricultural and Exhibition Centre (NAEC), Stoneleigh Park, Warwickshire.
ENDS
Notes to Editors:
For further media enquiries, please contact the British Showjumping Press Office on 02476 698806 or press@britishshowjumping.co.uk.
Connolly's RED MILLS:
Connolly's RED MILLS is an Irish family owned company, providing precision nutrition for a wide range of equine needs. The company was established in 1908 in Co. Kilkenny, and today, exports to over 50 countries worldwide. For people who value their horses as high performers, Connolly's RED MILLS has been the automatic choice for over 100 years. We know just what it takes to get you the best results in terms of equine nutrition, health, well-being and performance. Some of the most successful high-performance sport horses in the world have been fed on Connolly's RED MILLS and we are delighted to launch our new dedicated Sport Horse range of feeds. The quality products that produce these results are supported by nutritional research along with some of the most technologically advanced innovation and manufacturing processes in the world. For further information, please visit www.redmills.co.uk/Horses/Home.