Chris Smith takes the honours in the Connolly's RED MILLS Senior Newcomers Second Round at Arena UK
Monday 22 July 2019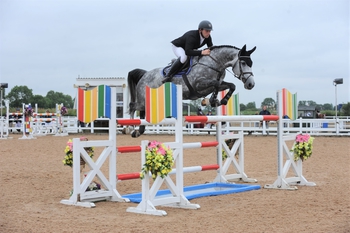 Riders flocked to Arena UK in Grantham, Lincolnshire over the weekend as they played host to a number of qualifying classes. 116 competitors came forward for the Connolly's RED MILLS Senior Newcomers Second Round, which took place on Friday and it was Chris Smith who came out on top.
With two qualifying tickets available for the Connolly's RED MILLS Senior Newcomers Championship Final, which will be held during Horse of the Year Show in October, all combinations were focused on securing one for themselves. It was just fourteen of the initial starters that made it through to Course Designer Neil Foster's challenging final round with seven going on to produce a treble clear meaning all eyes turned to the clock to decide the final line up.
Chris Smith from Hyde in Cheshire piloted his own 7 Year-old Dutch bred Cardento sired, Hornet, to the quickest round of the class. The crossed the finish line in 40.96 seconds, 0.25 seconds faster than second placed Ben Walker and Emma Ziff's Heidiemorka, a 7 Year-old Belgian bred who won the Winter 7 Year Old Final at the Spring Championships at Addington in April, they posted a time of 41.21 seconds.
Third place went to Emma Crawford and Lynn Crawford's Dukes of Hazzard, they crossed the line in 42.42 seconds. Helen Tredwell produced a steadier time with her own Luikan, they finished in 46.19 seconds which was good enough for fourth place. Close behind in fifth place was Chelsea Skelton and Janet Elvin's Easy Annie, they crossed the line in 46.24 seconds. The two remaining treble clears went to Daniel Carroll aboard Can Balloon Q and Sophie Holiday with Golden Power.
The top two combinations secured their place in the Connolly's RED MILLS Senior Newcomers Championship Final at Horse of the Year Show and all treble clears earnt their chance to compete in the Connolly's RED MILLS Senior Newcomers Masters at the British Showjumping National Championships.
Arena UK – 19th July 2019
Connolly's RED MILLS Senior Newcomers Second Round
1st Christopher Smith & Hornet – 0/0/0 – 40.96 seconds
2nd Ben Walker & Heidiemorka – 0/0/0 – 41.21 seconds
3rd Emma Crawford & Dukes of Hazzard – 0/0/0 – 42.42 seconds
4th Helen Tredwell & Luikan – 0/0/0 – 46.19 seconds
5th Chelsea Skelton & Easy Annie – 0/0/0 – 46.24 seconds
6th Daniel Carroll & Can Balloon Q – 0/0/0 – 47.86 seconds
7th Sophie Holiday & Golden Power – 0/0/0 – 53.24 seconds
NB: Qualifications will be updated pending grading of results.
Image: Christopher Smith & Hornet on their way to winning the Connolly's Red Mills Senior Newcomers Second Round at Arena UK Equestrian Centre on Friday 19th July [Credit: British Showjumping]
The Horse of the Year Show 2019 will take place from the 2nd – 6th October at Birmingham's NEC. The British Showjumping National Championships 2019 will take place during the 6th – 11th August at the National Agricultural and Exhibition Centre (NAEC), Stoneleigh Park, Warwickshire.
Connolly's RED MILLS:
Connolly's RED MILLS is an Irish family owned company, providing precision nutrition for a wide range of equine needs. The company was established in 1908 in Co. Kilkenny, and today, exports to over 50 countries worldwide. For people who value their horses as high performers, Connolly's RED MILLS has been the automatic choice for over 100 years. We know just what it takes to get you the best results in terms of equine nutrition, health, well-being and performance. Some of the most successful high-performance sport horses in the world have been fed on Connolly's RED MILLS and we are delighted to launch our new dedicated Sport Horse range of feeds. The quality products that produce these results are supported by nutritional research along with some of the most technologically advanced innovation and manufacturing processes in the world. For further information, please visit www.redmills.co.uk/Horses/Home.