Donald Whitaker takes the title in the Connolly's RED MILLS Senior Newcomers Championship
Wednesday 03 October 2018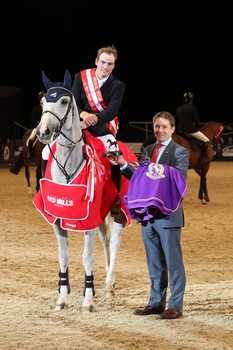 Yorkshireman Donald Whitaker and one of British Showjumping's most exciting prospects took centre-stage to win the Connolly's RED MILLS Senior Newcomers Championship on day one at Horse of the Year Show.
Grey mare Chilli - world five-year-old champion in 2017 and six-year-old runner-up in 2018 - triumphed in emphatic fashion in the Andrews Bowen International Arena. It really was a case of red hot chilli jumper as she blew away the opposition to take a five horse jump-off by more than two seconds from Alex Hempleman and Jalanna, with Michaela Webb and Amarillo FSH taking third.
It was a blistering display of high-class jumping, and left Donald enthusing about just how good the horse already is and could become as time unfolds.
"She is an amazing horse," Donald said. "She gives you the best feeling in the world - she gives you that much confidence. She has got everything. She is so careful and scopey with the heart of a lion, and always tries her best."
Assessing his jump-off performance in a long-running class that boasts previous winners such as Donald's uncle Michael, his fellow British star Laura Renwick and Irishman Billy Twomey, Donald added: "It's never easy, but she jumped incredibly."
"She is naturally very quick, so as long as we keep her moving, she is going to be fast. She has done everything we have asked of her - gold medal in the world five-year-old class last year, silver medal this year in the six-year-old. I was equal first in the puissance a couple of years ago at Horse of the Year Show, but generally I've never had too much luck here. It is absolutely brilliant to win a class like this one."
Link to audio interview with Donald Whitaker.
Connolly's RED MILLS:
Connolly's RED MILLS is an Irish family owned company, providing precision nutrition for a wide range of equine needs. The company was established in 1908 in Co. Kilkenny, and today, exports to over 50 countries worldwide. For people who value their horses as high performers, Connolly's RED MILLS has been the automatic choice for over 100 years. We know just what it takes to get you the best results in terms of equine nutrition, health, well-being and performance. Some of the most successful high-performance sport horses in the world have been fed on Connolly's RED MILLS and we are delighted to launch our new dedicated Sport Horse range of feeds. The quality products that produce these results are supported by nutritional research along with some of the most technologically advanced innovation and manufacturing processes in the world. For further information, please visit www.redmills.co.uk/Horses/Home.
Photo Credit: 1st Class Images