Joe Clayton tops the Connolly's RED MILLS Senior Newcomers Second Round at Arena UK
Monday 23 July 2018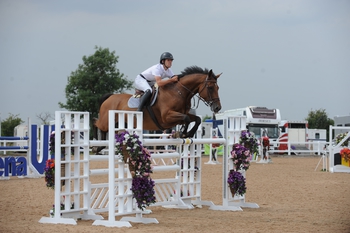 Joe Clayton topped a hotly-contended jump-off in the Connolly's RED MILLS Senior Newcomers Second Round on Malcolm Pyrah's Dewpoint Diamond at a busy second rounds show at Arena UK.
A mammoth one hundred and thirteen initially contended the class at this popular Lincolnshire venue with course-designer Neil Foster reducing the numbers to thirty-four for the second round and an eventual sixteen vied for the two Horse of the Year Show qualifying places in the final jump-off.
The jump-off was as sizzling hot as the weather with Joe, from Huddersfield in Yorkshire, using his late draw to maximum advantage. He executed a deceptively fast round on the Je T'Aime Flamenco 7 year-old Dewpoint Diamond, but took a flyer to the last oxer to secure victory with 2.69 seconds in hand.
Holly Smith claimed the second Horse of the Year Show qualifying spot on Manolito P, a 6 year-old sired by I'm Special De Muze that she has produced for the past two years.
The combinations finishing third to fifth go forward to the Connolly's RED MILLS Newcomers Masters for another chance of qualifying for the Horse of the Year Show.
Arena UK – Friday 20th July 2018
Connolly's RED MILLS Senior Newcomers Second Round
1st Joe Clayton & Dewpoint Diamond – 0/0/0 - 40.08 seconds
2nd Holly Smith & Manolito P – 0/0/0 - 42.77 seconds
3rd Joe Clayton & Hikita – 0/0/0 - 43.64 seconds
4th Anneliese Aitken & Eagele Z – 0/0/0 - 45.23 seconds
5th Harry Bateman & Zuniek VD Tojopehoeve – 0/0/4 - 38.57 seconds
NB: Qualifications will be updated pending grading of results.
The Horse of the Year Show 2018 will take place from the 3rd – 7th October at Birmingham's NEC. The British Showjumping National Championships 2018 will take place during the 7th – 12th August at the National Agricultural and Exhibition Centre (NAEC), Stoneleigh Park, Warwickshire.
Connolly's RED MILLS:
Connolly's RED MILLS is an Irish family owned company, providing precision nutrition for a wide range of equine needs. The company was established in 1908 in Co. Kilkenny, and today, exports to over 50 countries worldwide. For people who value their horses as high performers, Connolly's RED MILLS has been the automatic choice for over 100 years. We know just what it takes to get you the best results in terms of equine nutrition, health, well-being and performance. Some of the most successful high-performance sport horses in the world have been fed on Connolly's RED MILLS and we are delighted to launch our new dedicated Sport Horse range of feeds. The quality products that produce these results are supported by nutritional research along with some of the most technologically advanced innovation and manufacturing processes in the world. For further information, please visit www.redmills.co.uk/Horses/Home.