Harry Charles takes his claim on the NAEC Stoneleigh Stakes
Friday 05 October 2018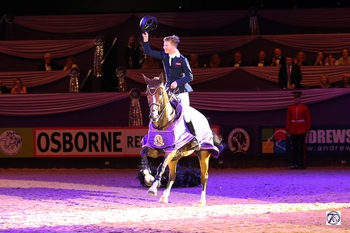 Harry Charles produced a performance that bristled with star quality as he won the NAEC Stoneleigh Stakes at Horse of the Year Show on Friday at Birmingham's NEC Genting Arena.
The 19-year-old son of London 2012 Olympic gold medallist Peter Charles had it all to do in a class when riders planned their own jump-off routes, while he was also last to go after Ireland's Richard Howley set the pace with Chinook in 23.25 seconds.
But the Hampshire-based rider responded brilliantly to the pressure as he took a £7,390 top prize by just 23 hundredths of a second, clocking 23.02 aboard Victor. Harry was quick to acclaim Richard's round - which also saw him change his jump-off plan.
"I saw Richard's round, and I thank him for the course," he said. "I had a different one planned, but I saw Richard's, and I thought it was way quicker than my original course. My horse is an ex-eventing horse, so I knew he could do the turns easily and maybe shave a fraction of a second off, and he did. It has been a dream start to the show for me."
Harry finished earlier as one of four joint winners of the Five Fence Challenge alongside Helen Tredwell, Robert Murphy and Joseph Stockdale, and he took that form with him into Friday's headline class.
"He is brave," Harry added, of Victor. "The more I dare him, the better he jumps. We have a great system at home, so when we come to a show, everything works like it has. I want to thank everyone behind me for making moments like this possible. This show is right up there, and there is nothing like a home crowd. It gives you that extra bit of drive as well."
Link to audio interview with Harry Charles.
Photo Credit: Julian Portch Photography