British Showjumping's Team LeMieux finish 3rd in FEI Jumping Nations Cup™ Pony Final
Sunday 09 September 2018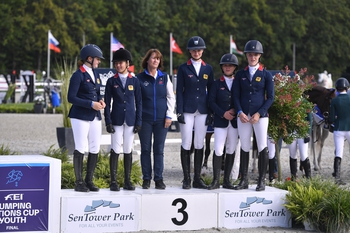 It was a 3rd place finish for the British Pony riders, competing under the title sponsor banner of Team LeMieux, in their FEI Jumping Nations Cup™ Youth Final at Sentower Park in Opglabbeek, Belgium earlier today.
Nations Cup Final
The team made up of Shaunie Greig, aged 15, from Aberdeen with Casino Royale, a 15 year-old bay gelding owned by Anne Greig, Claudia Moore, aged 13, from Brentwood, Essex with Delfip, an 11 year-old bay mare owned by Katrina Moore, Perdita Digby, aged 15, from Dorchester, Dorset with Kayleighs Star, a 13 year-old coloured mare owned by Lady Sophie Digby, and Nicole Lockhead Anderson, aged 16, from Banchory, Aberdeenshire with Gangnam Style II, a 9 year-old bay gelding owned by Claire Lockhead put in some strong performances to ensure their place on the podium.
The fifth member of the squad was Lily Freeman Attwood, aged 16, from Shrewsbury, Shropshire with Capability Brown, a 7 year-old bay gelding owned by Emily Freeman Attwood who jumped the opening leg of the competition on Friday before continuing as an individual today when only four members of the squad are invited to come forward for the Nations Cup legs.
Claudia Moore, who had won Individual Bronze at the Pony European Championships in addition to Team Gold, put in the sole clear for the team returning home on a zero penalty score. Shaunie, Perdita and Nicole picked up just 4 penalties apiece.
It was Ireland and Belgium that took the top two positions after a thrilling third round jump off which saw Ireland just take the lead to claim the victory.

Grand Prix
It was Nicole Lockhead Anderson that won the Grand Prix with Gangnam Style II. Her incredibly fast jump-off clear in a time of 37.79 seconds just couldn't be caught and saw Charlotte Houston (IRE) with Happy Girl relegated to 2nd place in a time of 37.92 seconds. The Brits certainly dominated the line up with Lily Freeman-Attwood and Valmy de Treille taking 3rd place with her clear in a time of 38.23 seconds. Jeanne Hire (FRA) took 4th whilst Perdita Digby on Kayleighs Star and Shaunie Greig on Casino Royale took 5th and 6th place respectively.
This brought the summer Pony Nations Cup season to a close after what has been a particularly successful year with a Team Gold and Individual Bronze secured at Bishop Burton who played host to the Pony European Championships this year in addition to some incredibly strong performances in Nations Cup competitions prior to that.
With the team riders today ranging from just 13 – 16 years of age it certainly bodes well for the future of the sport and the talent coming up through the ranks within the pony environment.
For further information on the show and full results, visit https://www.sentowerpark.com.
British Showjumping would like to thank LeMieux, title sponsors of the Pony teams.
LeMieux is now established as the leading manufacturer of saddle pads in the UK and one of the fastest growing equestrian brands in Europe. The latest range of jumping pads has been developed with Scott Brash to precisely fit the cut of modern jumping saddles. The LeMieux product offering for horses extends beyond saddle pads to boots, bandages, fly hoods, headcollars and rugs - widely available through most good retailers or online at www.horsehealth.co.uk.
The GBR showjumping teams are supported by the British Equestrian Federation's World Class Programme, funded by UK Sport through the National Lottery. The Programme focuses on identifying talent, developing potential and maximising medal-winning performances on the world stage.
Image Credit: Pegasus Photo Creations.