Iwan Carpenter heads The Hooper Family Winter 138cms Championship at Hickstead's BHS Royal International Horse Show
Wednesday 25 July 2018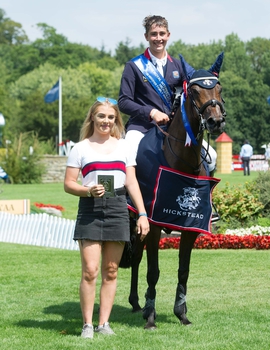 14-year-old showjumper Iwan Carpenter from Holywell, North Wales has won the Hooper Family 138cms Championship at Hickstead's BHS Royal International Horse Show on Wednesday 25 July.
In a highly competitive class, Iwan jumped off against four others who had gone clear in the first round. He and self-produced Follow Jazzy Lady – owned by John Carpenter – set a blistering time of 39.14, which was enough take the win ahead of Tabitha Kyle and Playboy Van De Zoetewel on 39.46.
Iwan has been coming to Hickstead since he was riding 12.2h ponies, and is now moving onto 14.2h ponies and children on horses classes. Having had numerous placings in the past at the West Sussex showground, this was Iwan's first win. His mum Amanda told him to go for it and that he did. The teenager said; "I was really happy to finally win, it's a big achievement."
The Longines FEI Jumping Nations Cup™ of Great Britain at the BHS Royal International Horse Show (25-29 July) is one of the oldest equestrian events in the world, as well as one of the biggest outdoor horse shows in the country.
It offers everything from the skill and power of international showjumpers clearing vast fences, the precision of top class show horses and ponies putting in foot-perfect performances, and the speed and exhilaration of the scurry drivers and event riders galloping around Hickstead's famous International Arena.
Showjumping highlights include the Longines FEI Jumping Nations Cup™ of Great Britain, the Longines BHS King George V Gold Cup, the BHS Queen Elizabeth II Cup and the MS Amlin Eventers' Challenge. These historic classes attract the very best riders in the world, and there's no better place than Hickstead for getting up close to these equestrian superstars.
Image Credit: LewisHarding Photography