Mark Edwards on flying form at the Royal Highland Show after win in the International Stairway
Wednesday 26 June 2019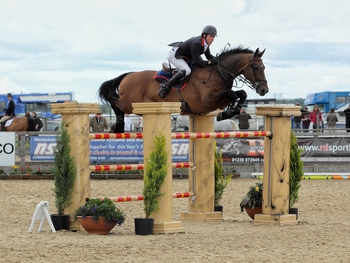 The fifth leg of the International Stairway Series 2019 headed North to The Royal Highland Show in Edinburgh this weekend and there was no stopping Mark Edwards from Cowbridge in South Glamorgan who clinched a back to back win on Martyn Edwards' 9 year-old British bred gelding Montreuxs Tale after winning the previous leg of the series at the South of England Show at the beginning of the month.
Course designer Mark McGowan set a tough first round track that not one combination could beat meaning the top five four-faulters went through to the jump-off. The jump-off proved to be just as tough as the first round as only two went on to produce a clear but Mark Edwards kept his foot on the throttle and produced the fastest round of the class, crossing the line in 51.12 seconds to take the top spot.
Second place and the second clear of the jump-off went to Helen Tredwell and Colin Garratt's Sebastian VII who posted a time of 54.25 seconds. Millie Allen and Helen Webb's Quinu De Pravia picked up four faults in both rounds to finish third on eight faults with Helen Tredwell and her second ride Larksong in fourth with twelve faults in total. Simon Buckley was the fifth rider in the jump-off but opted to retire his ride Elia after the sixth fence.
Mark continued his flying form over the weekend and picked up a one-two in the Spires Hospitals Grand Prix with Montreuxs Tale and Tinkas Tale as well as a win in the Fiona Gillespie Memorial A&B Stakes earlier in the week.
The International Stairway takes place across a number of county shows where winning combinations accrue League Points that count towards the Final which takes place at the British Showjumping National Championships in August at Stoneleigh Park. The series culminates with a high profile championships where three Horse of the Year Show International Wild Cards are allocated as well as it being where the sports National Champion is crowned.
Image courtesy of Sinclair Photography