Carl Freeman heads the Nupafeed Supplements Senior Discovery Second Round at Field House Equestrian Centre
Thursday 02 August 2018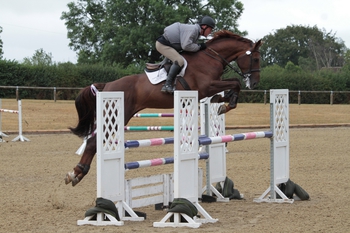 Locally-based Carl Freeman claimed a handsome victory in the Nupafeed Supplements Senior Discovery Second Round at Field House Equestrian Centre at Marchington, Staffordshire, with the eye-catching home-bred stallion Je T'Aime Romeros.
Forty-six keen competitors chased after the qualifying places in this, the final Nupafeed Supplements Senior Discovery Second Round qualifier of 2018 over course-designer Neil Foster's 11-fence track with 21 posting first round clears. These were further reduced in round two for an eventual 12 in the jump-off.
It all went according to plan for Carl, from Rugeley in Staffordshire, as he found all the shortcuts on his own scopey Je T'Aime Flamenco x Corrado I six-year-old Je T'Aime Romeros to secure the win with 3.62 seconds to spare.
Eight competitors in total provided treble clears to take qualification and head to the Nupafeed Supplements Senior Discovery Final at the British Showjumping National Championships.
Field House Equestrian Centre – Sunday 29th July 2018
Nupafeed Supplements Senior Discovery Second Round
1st Carl Freeman & Je T'Aime Romeros – 0/0/0 – 44.10 seconds
2nd Michael Potter & Landown New Edition – 0/0/0 – 47.72 seconds
3rd Chantelle Duggan & Layla Greenfield – 0/0/0 – 47.83 seconds
4th Claire Robertson & Hamara II – 0/0/0 – 52.15 seconds
5th Peter Shaw & Queen Mary – 0/0/0 – 52.37 seconds
6th Samantha Borthwick & Celestial SB – 0/0/0 – 54.64 seconds
7th Sophie Holliday & Golden Power – 0/0/0 – 55.69 seconds
8th Annabelle Parker & Oldlands Moca – 0/0/0 – 56.53 seconds
NB: Qualifications will be updated pending official grading of results.
The British Showjumping National Championships 2018 will take place during the 7th – 12th August at the National Agricultural and Exhibition Centre (NAEC), Stoneleigh Park, Warwickshire.
Image Credit: Devil Dog Events.
Nupafeed Supplements:
Imported from Germany, Nupafeed supplements combine advanced scientific research with the highest quality ingredients to make their products truly unique. The Nupafeed range includes: the highly acclaimed MAH® Liquid and Syringes to calm and reduce stress, Flex GLM (Green Lipped Mussel) joint supplement and Staying Power to aid energy, strength and stamina. Used by top professionals, including John Whitaker and Philip Miller, Nupafeed products are permitted for competition and are available by mail order. Nupafeed aims are to ensure an unbeatable quality of product, supplied with friendly and honest advice. The team have experience in conversing with customers who represent all levels of horse ownership, in every discipline. For more information, visit www.nupafeed.co.uk.