Beth Vernon takes the top spot in the Connolly's RED MILLS Senior Newcomers Second Round at SouthView Equestrian Centre
Monday 15 July 2019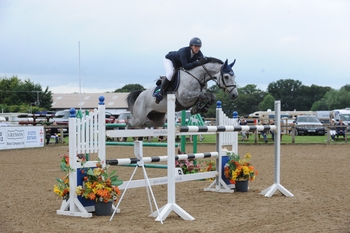 SouthView Equestrian Centre in Winsford, Cheshire proved to be a popular choice with riders over the weekend as over one hundred combinations came forward for the Connolly's RED MILLS Senior Newcomers Second Round, which took place on Saturday. It was Beth Vernon who shook off some fierce competition to take the win.
With just two qualifying tickets available for the Connolly's RED MILLS Senior Newcomers Championship Final, which will be held during Horse of the Year Show in October, all combinations had their hearts set on a treble clear. Twenty-eight of the initial starters kept their hopes alive and made it into the second round but course designer Gillian Milner's challenging track stopped fifteen of those accessing the final jump-off. The final round proved equally as challenging when only two managed to produce a clear.
Beth Vernon from Mansfield, Nottinghamshire took full advantage of 6 year-old British bred Pewit Dezoito's quick and nimble agility to post a winning time of 44.08 seconds, knocking 4.56 seconds off her closest rival's time. Nicole Kershaw piloted Alan Fazakerley's 8 year-old Dutch bred gelding, Concert Z, into second place after steady but safe clear in 48.64 seconds.
The three remaining places in the top five went to the fastest of the four faulters. Allan Birch produced a time fast enough to take the win with Parkmore Rowan but one fence down proved costly for the pair, they eventually picked up third place. Fourth and fifth place went to George Whitaker aboard Shooting Star and Christopher Smith with Flaming De Pravia respectively, who both faulted at the third fence.
The top two combinations secured their place in the Connolly's RED MILLS Senior Newcomers Championship Final at Horse of the Year Show and the top five took home the chance to compete in the Connolly's RED MILLS Senior Newcomers Masters at the British Showjumping National Championships.
SouthView Equestrian Centre – 13th July 2019
Connolly's RED MILLS Senior Newcomers Second Round
1st Beth Vernon & Pewit Dezoito – 0/0/0 – 44.08 seconds
2nd Nicole Kershaw & Concert Z – 0/0/0 – 48.64 seconds
3rd Allan Birch (Junior) & Parkmore Rowan – 0/0/4 – 43.84 seconds
4th George Whitake & Shooting Star – 0/0/4 – 46.91 seconds
5th Christopher Smith & Flaming De Pravia – 0/0/4 – 51.11 seconds
NB: Qualifications will be updated pending grading of results.
Image: Beth Vernon and Pewit Dezoito on their way to winning the Connolly's Red Mills Senior Newcomers Second Round at SouthView Equestrian Centre on Saturday 13th July [Credit: British Showjumping]
The Horse of the Year Show 2019 will take place from the 2nd – 6th October at Birmingham's NEC. The British Showjumping National Championships 2019 will take place during the 6th – 11th August at the National Agricultural and Exhibition Centre (NAEC), Stoneleigh Park, Warwickshire.
Connolly's RED MILLS:
Connolly's RED MILLS is an Irish family owned company, providing precision nutrition for a wide range of equine needs. The company was established in 1908 in Co. Kilkenny, and today, exports to over 50 countries worldwide. For people who value their horses as high performers, Connolly's RED MILLS has been the automatic choice for over 100 years. We know just what it takes to get you the best results in terms of equine nutrition, health, well-being and performance. Some of the most successful high-performance sport horses in the world have been fed on Connolly's RED MILLS and we are delighted to launch our new dedicated Sport Horse range of feeds. The quality products that produce these results are supported by nutritional research along with some of the most technologically advanced innovation and manufacturing processes in the world. For further information, please visit www.redmills.co.uk/Horses/Home.