Equissage Pulse renew sponsorship of the Senior British Novice Championship for 2021
Friday 20 November 2020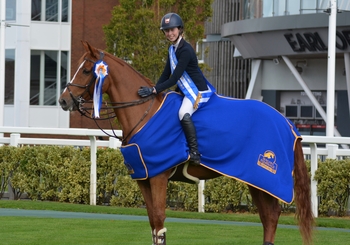 Internationally renowned equine therapy company, Equissage Pulse, will be continuing with their sponsorship of the British Showjumping Senior British Novice Championship for 2021.
The Equissage Pulse Senior British Novice Championship is the highest contested senior series in the national showjumping calendar and it is for registered horses in Grade C that have not won a total of 125 points and they are to be ridden by an Adult, Associate or Junior Members. All registered horses aged four years and under in the same calendar year as the Championship Final, irrespective of points, are also eligible to compete. Starters travel all over the country in their quest to pick up one of the qualification spots for the Championship Final, which takes place during the British Showjumping National Championships.
Equissage Pulse was launched back in 2000 and has since become a worldwide brand. The Equissage unit delivers powerful cycloidal (three-way) vibrations to the whole body and is scientifically proven to help in rehabilitation from a multitude of injuries or persistent conditions. These include aiding the breakdown of lactic acid, which can be a cause of tying up and can relieve hindlimb and hamstring stiffness. Cycloidal three-way vibration can speed up the healing of soft tissue and reduce haematomas. Equissage Pulse can help to avoid injury by improving general joint and muscle flexibility and health.
Recent scientifically proven research has shown that Equissage Pulse increases range of motion of T13 and that the epaxial musculature increased in its dimension as a result of vibration therapy. Increased motion, and therefore flexibility, can aid movement during competition performance.
Charlotte Walker, National Sales Manager at Equissage Pulse, said "Despite everything thrown at the country during 2020 it was a no brainer to continue the sponsorship of the Senior British Novice Championship for 2021. The overwhelming response we have had from competitors at the first and second rounds as well as at the Championships was fantastic! Our area agents cannot wait to return to show centres when restrictions allow to fulfil the demand for Equissage Therapy."
Maria Haig, Head of Communications at British Showjumping, added "When first presented with the Senior British Novice Championship to Equissage Pulse back in 2019, it was felt that the series would become a key platform for promotion due to its large reach and we are extremely pleased that this has proved to be the case resulting in the renewal of the sponsorship for another year. The entire team at Equissage Pulse is passionate about improving the health and performance of competition horses and this alignment will serve to assist them reaching an audience who strongly share their beliefs."
Image: Charley Hamilton & Innishannon Red Squirrel - Equissage Pulse Senior British Novice Champions 2020 CREDIT Majestic Photography
Equissage Pulse:
Equissage Pulse is the scientifically proven benchmark in equine therapy helping riders, competitors, trainers, and breeders of all levels improve performance, maintain peak condition and be the best that they can be! Raising the bar in equine therapy, the Equissage Pulse, Cycloid Vibration Therapy (CVT) has been helping people and animals aid rehabilitation, increase range of motion, and relieve joint and muscle pain for over 50 years. Used in spinal and rehabilitation units across the NHS, the technology in Equissage Pulse has been developed to offer medical grade equine therapy which is easy to use, versatile and offers unrivalled equine health benefits. For more information, visit www.niagaraequissage.com.