Guy Williams claims the CSI 3* Grand Prix of Vilamoura
Sunday 11 October 2020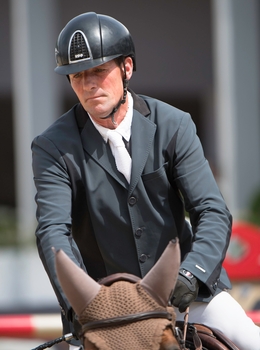 It was a good day for the Brits today when they claimed five of the top six places in the CSI 3* Grand Prix in Vilamoura, Portugal this afternoon.
Despite it being October the weather was glorious with riders being able to ride in shirt sleeves to make the most of the sun that has been out for most of the week. A huge field of fifty-four starters was whittled down to just twelve eligible to come forward for the jump off having jumped clear in the first round.
It was Guy who claimed the honours when with the 15 year-old Rouge de Ravel he produced another clear stopping the clock in 36.24 seconds. Hot on his heels was Laura Renwick with Dublin V who were literally just a fraction of a second slower in 36.56 seconds to take 2nd place. Young rider Jack Whitaker made 3rd with Valmy de la Lande with his impressive clear in a time of 37.01 seconds whilst Emily Moffitt and Georgia Tame took 5th and 6th respectively. The only non British placing came from Kim Emmen (NED) with Jack van het Dennehof who took 4th.
For full results https://online.equipe.com/en/class_sections/543202.