Jenna Good wins the Equissage Pulse Senior British Novice Second Round at Prestige Equestrian
Tuesday 08 June 2021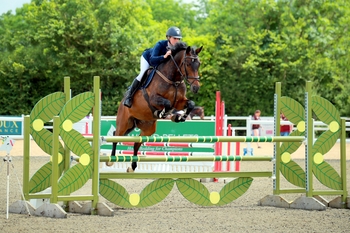 On Sunday, Prestige Equestrian played host to this week's Equissage Pulse Senior British Novice Second Round and it was won by Jenna Good from Farnham Surrey riding Cali Mile High owned by Kirsten Good.
A starting field of forty-six determined riders meant that the first two round were closely contested with twenty-one combinations making it through to the final jump off. Keeping a close eye on her competition, Jenna steered the 6 year- old bay mare to a triple clear in just 41.28 seconds.
Prestige Equestrian – Sunday 6th June 2021
Equissage Senior British Novice Second Round Results
1st Jenna Good & Cali Mile High - 0/0/0 – 41.28 seconds
2nd Emma-Jo Slater & Kimba Time - 0/0/0 – 41.50 seconds
3rd Caroline O'Connell & Mrs Crystal Cruise – 0/0/0 – 43.14 seconds
For the full results click here
For the list of qualified riders so far click here.
NB: Results pending official grading.
Image: Jenna Good & Cali Mile High at Prestige Equestrian on Sunday (Credit: Jasmine Punter Photography)
Equissage Pulse:
Equissage Pulse - Raising the bar in equine therapy. For over 50 years CVT (Cycloidal Vibration Therapy) as used in Equissage Pulse has made Equissage and parent company, Niagara Healthcare, household names in human and equine therapy; their products used and trusted by individuals and NHS spinal Injury units across the country. Manufactured in the UK, and with proven, published scientific research* Equissage Pulse is used by top professionals and everyday riders to help their horses to perform at their best. Benefits include increased circulation to aid performance, increased range of motion, aid rehabilitation and promote wellbeing. All products are portable and easy to use even in the busiest of yards. *The full paper of the original research is available to read on the Journal of Veterinary Science website www.j-evs.com. To book a free proven therapy session for your horse call on 0800 689 9844 or visit the website.