Peter Robeson (October 1929 – September 2018) – Announcement of Death
Tuesday 02 October 2018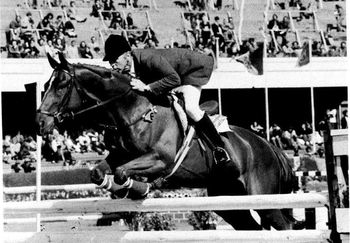 It is with great sadness that British Showjumping acknowledge the passing of their Honorary Vice President and Olympic Games double medallist Peter Robeson OBE who died peacefully at home on Saturday 29th September.
Peter won a Team Bronze medal at the 1956 Stockholm Olympic Games on Scorchin owned by Pat Smythe in addition to an Individual Bronze in the 1964 Tokyo Olympic Games with Firecrest. Peter's wins with his two main horses Craven A and Grebe were vast and included numerous Grand Prix titles in addition the King George V Gold Cup at the Royal Interanational Horse Show in 1967. Peter made a further Olympic Games appearance for Great Britain, the third being in 1976 at Montreal, where he finished just outside the medals placings.
In 1955 Peter married the late Renee Louise Marie de Rotshschild setting up home at their Stud in Tyringham, Newport Pagnell. Their passion for horse-racing saw them become both successful owners and trainers. Their passion for racing continued throughout their married lives where Peter would ensure he had a day-to-day involvement in the stud under which was run under the guidance of his trainer Stuart Edmunds who has been based with them for almost forty years.
Peter's focus on equestrian sport also continued with both showjumping and eventing where he continued his involvement as an owner, coach and trainer with horses ridden by both Stuart and Stuart's daughter".
Stuart paid tribute saying "It was a privilege to know and work alongside Peter who I can only term as a 'legend'. His horsemanship was second-to-none across all areas of equestrianism; he was quite extraordinary. He even rode in a few races himself, which very few will know, and he was tremendous across all disciplines".
Di Lampard, World Class Performance Manager for Showjumping and former International rider paid her respects to Peter's talent by saying "Peter was the first classical horseman of our time. He was a perfectionist and a true professional. He rode with natural style and total empathy and his riding was an absolute inspiration to me".
Iain Graham, Chief Executive for British Showjumping furthered "We feel deeply saddened by the news of Peter's passing. We have lost a true sportsman who has delivered so much for the sport over the many decades of his involvement and I speak on behalf of everyone at British Showjumping when I express our sincere condolences to his family and friends during this difficult time".
A small and private funeral will take place in the near future with the possibility of a memorial service at a later date for Peter's wider circle of friends and colleagues.