TILLYOCH EC - CLEAR ROUND TRAINING SHOW & PONY SHOW - 10TH & 11TH APRIL 2021
Tuesday 06 April 2021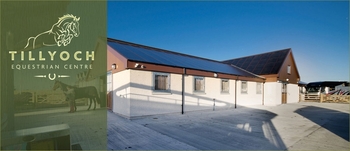 TILLYOCH EC - CLEAR ROUND TRAINING SHOW & PONY SHOW - 10TH & 11TH APRIL 2021
PLEASE ADHERE TO ALL COVID-19 PROTOCOLS THROUGH BRITISH SHOWJUMPING, THE SCOTTISH GOVERNMENT, HORSESCOTLAND AND THE VENUE.
EHV-1 SELF CERTIFICATION FORM MUST BE COMPLETED AND EMAILED TO TILLYOCH 24 HOURS PRIOR TO THE SHOW DAY - michael@tillyochequestrian.co.uk.
Tillyoch EC - Clear Round Training Show - 10th April 10am Start - £12 entry
Full schedule on British Showjumping Website Show Calendar
Riders over 17yrs on horses must be within the Local Authority of Aberdeen City.
Open to Horses and riders 17yrs and under
Online Entries and Payments on Horsemonkey
From cross-poles upwards, please see horsemonkey schedule.
Tillyoch EC - Sunday 11th April Pony Show 10am Start
Full schedule on British Showjumping Website Show Calendar
Open to Pony riders only
Tickets to ride for non members can be purchased online (priority given to British Showjumping members entries at this time)
Online Entries and Payments on Horsemonkey
1st prize will be paid in all competitive classes where there is more than one rider.
Thank you to all the sponsors
| | | | | | | | | | |
| --- | --- | --- | --- | --- | --- | --- | --- | --- | --- |
| 11 | 10:00 | Club 70cm Ponies only 912002 | | | | | 20/12/12 | £12.00 | |
| 12a | - | Pony British Novice First Round 912003 | 80cm | Single Phase | 410 | 325mpm | 30/20/15/15/15 | £15.00 | |
| 12b | | Pony Intro 80cm Open 912004 | 80cm | Single Phase | | | 30/20/15/15/15 | | |
| 13a | - | Pony Discovery First Round 912005 | 90cm | Single Phase | 408 | 325mpm | 30/20/15/15/15 | £15.00 | |
| 13b | | Pony Intro 90cm Open 912006 | 90cm | Single Phase | | | 30/20/15/15/15 | | |
| 14a | - | 138CM 912007 | 1.00m | Single Phase | | 325mpm | 30/20/15/15/15 | £15.00 | |
| 14b | | 128CM 912008 | 90cm | Single Phase | | | 30/20/15/15/15 | | |
| 15a | - | Blue Chip Pony Newcomers - First Round 912009 | 1.00m | Single Phase | 406 | 325mpm | 30/20/15/15/15 | £15.00 | |
| 15b | | Pony 1.00m Open (inc. Pony Restricted Rider 1.00m Qualifier) 912010 | 1.00m | Single Phase | 416 | | 30/20/15/15/15 | | |
| 16a | - | 138CM 912011 | 1.10m | Single Phase | | 325mpm | 30/20/15/15/15 | £15.00 | |
| 16b | | 128CM 912012 | 1.00m | Single Phase | | | 30/20/15/15/15 | | |
| 17a | - | Pony Foxhunter First Round (Inc. The Pony Restricted Rider 1.10m Qualifier) 912013 | 1.10m | Single Phase | 404 | 325mpm | 30/20/15/15/15 | £15.00 | |
| 17b | | Junior 1.10m Open (inc Pony Restricted Rider 1.10m Qualifier) 912014 | 1.10m | Single Phase | 417 | | 30/20/15/15/15 | | |
| 18 | - | Junior 1.20m Open 912015 | 1.20m | Single Phase | | 325mpm | 30/20/15/15/15 | £15.00 | |