Advanced Apprenticeship in Sporting Excellence
Advanced Apprenticeship in Sporting Excellence (AASE)
2019/20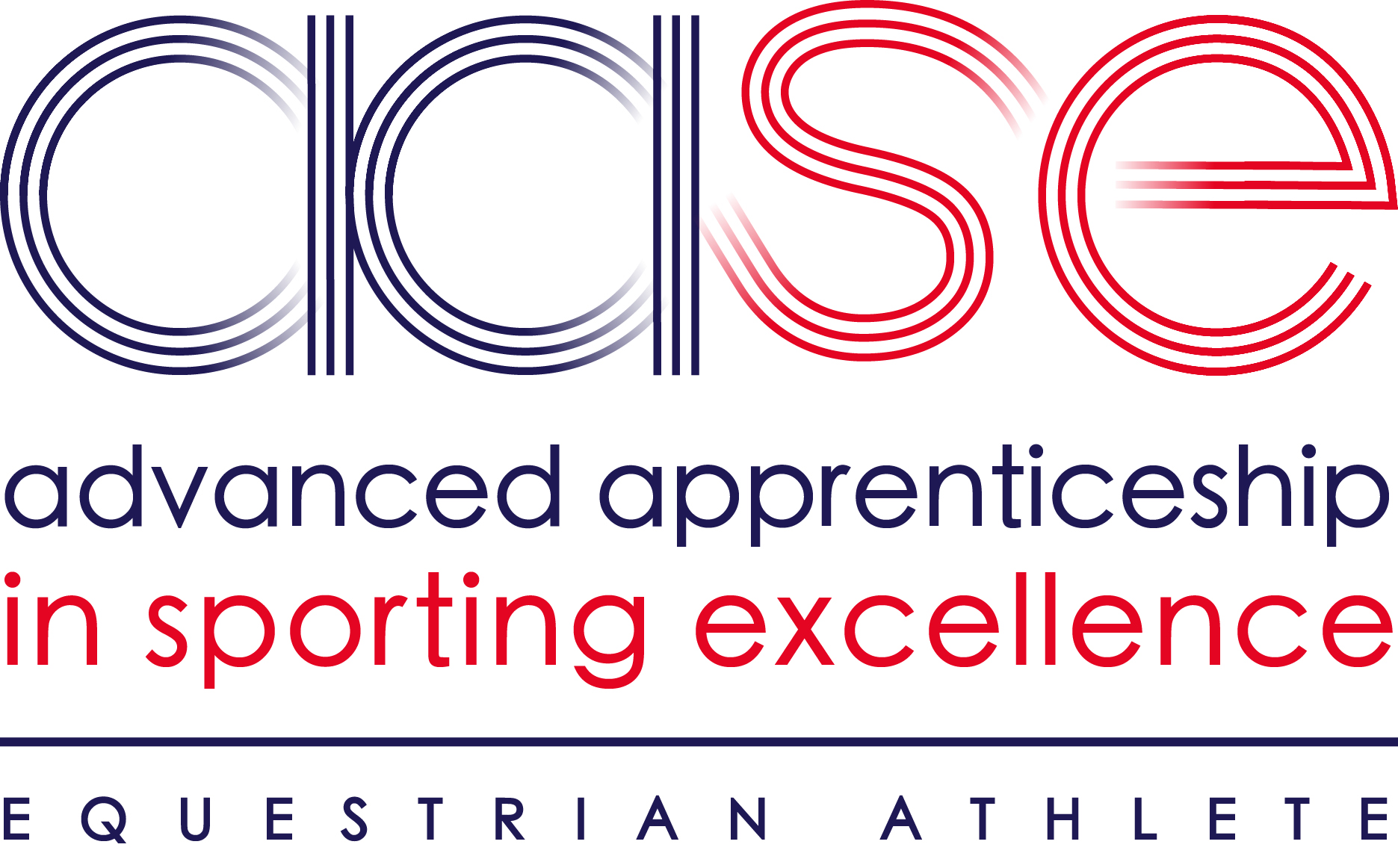 Aim
The Advanced Apprenticeship in Sporting Excellence (AASE) is a Level 3 programme provided by British Showjumping and Haddon Training and in partnership with British Dressage and British Eventing.
It is an apprenticeship with a difference, tailored around the three Olympic Disciplines, to offer talented riders the support to enable them to progress on the right path to succeed and excel in their chosen equine career.

"AASE is a springboard to riders who aspire to perform at the top level by providing access to a range of vocational experts and training from internationally acclaimed coaches." Andrew Saywell – BS AASE Coach.

The AASE programme provides learners with the opportunity to be trained by world class coaches such as Andrew Saywell, Heike Holstein and Charlie Hutton. However, being the very best is more than riding and competing. The AASE programme is designed to focus on everything an elite athlete needs to perform at the top level, in addition to developing their ridden talent; such as technical and tactical focus, career planning, physical training, sport psychology, communication, nutrition and communication in the media.
To find out more about the topics that are currently covered in AASE, please click here

Website below if hyperlink embedded within the text doesn't work when transferring across!
https://www.haddontraining.co.uk/sporting-excellence-programme-overview/aase-overview/aase-programme/

The programme includes:

Camps run on a quarterly basis, to be held at various location across the UK where you will be expected to bring your horse.
Support from top level show jumping coaches and leading experts.
Development of technical and tactical skills for high performance sport.
Tailored workshops in: career planning, physical health, performance psychology, communication and managing the media.
Eligibility
Rider
You need to have been a resident in England for the last 3 years and have the right to live and work in England.
You need to be employed in the equine sector in England for 30 hours per week with a contract of employment, with the ability to be released for 20% of your employed time for learning (not necessarily away from the workplace).
You need to be at least 16+ years old (at least by 31st August 2021) and have completed year 11 in 2021 (or before). There is no upper age limit.
You can't have prior sporting excellence qualification.
You can't be in education or completing another apprenticeship at the same time as completing the AASE programme,
All successful applicants will need to bring and stable own horse to each camp.
Horse:
The below criteria must have been achieved with the rider applying in the year proceeding the start of the programme. These results must have been achieved on horses.
4 years; 90cm/ 1.00m - 4 double clears – minimum 1 double clear must be at 1.00m table A7.
5 years; 1.00m / 1.10m 4 double clears – minimum 1 double clear must be at 1.10m table A7.
6 years; 1.10m / 1.20m 4 double clears – minimum 1 double clear must be at 1.20m table A7.
7 years; 1.20m / 1.30m 2 double clears – if no double clear at 1.30m must have 4 double clears at 1.20m table A7.
8 years and above; 1.30m 4 double clears
Applications will be accepted from riders who are in their 16th year riding ponies, and have achieved a minimum 4 double clears at 1.10m+, one of which must have been Table A7 on their ponies. They must however, have moved onto horses and be competing on horses for the duration of the programme.
Please be aware combinations achieving double clears at the biggest height per age category will be given priority selection.
Applications
We are anticipating our next group of AASE learners to begin on programme in September 2021, with applications being taken from June 2021.
Due to the pandemic and the disruption this is causing, we can only give this as an approximate timescale, which is why this year we have created an 'Express Your Interest' option.
All those who choose to register their interest will then be contacted by us as soon as applications open.
You can choose to do this, if you haven't already, by clicking here

Again link below should the hyperlink embedded within the text not work.
https://www.haddontraining.co.uk/sporting-excellence-programme-overview/aase-overview/aase-programme/express-your-interest/